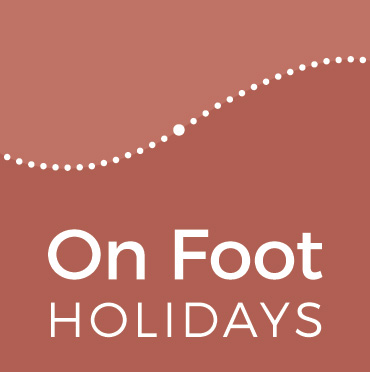 View Shortlist
Office open now
Opening Times
Office hours: Mon - Thurs 08:30 - 18:00
Fri 08:30 -17:00; Sat 09.30 to 13:00
Office hours: Mon - Thurs 08:30 - 18:00
Fri 08:30 -17:00; Sat 09.30 to 13:00
Office hours: East Coast USA: Mon - Thurs 08:30 - 18:00 (03:30 - 13:00 local time)
Fri 08:30 - 17:00 (03:30 - 12:00); Sat 09:30 to 13:00 (04:30 - 08:00)

West Coast USA: Mon - Thurs 08:30 -18:00 (00:30 - 10:00 local time)
Fri 08:30 -17:00 (00:30 - 09:00); Sat 09.30 to 13:00 (01:30 - 05:00)
Office hours: Ottawa: Mon - Thurs 08:30 - 18:00 (03:30 - 13:00 local time)
Fri 08:30 - 17:00 (03:30 - 12:00); Sat 09:30 to 13:00 (04:30 - 08:00)

Vancouver: Mon - Thurs 08:30 -18:00 (00:30 - 10:00 local time)
Fri 08:30 -17:00 (00:30 - 09:00); Sat 09.30 to 13:00 (01:30 - 05:00)
Office hours: Canberra: Mon - Thurs 08:30 - 18:00 (19:30 - 05:00 local time)
Fri 08:30 - 17:00 (19:30 - 04:00); Sat 09.30 to 13:00 (20:30 - 24:00)
Office hours: Mon - Thurs 08:30 - 18:00 (21:30 - 07:00 local time)
Fri 08:30 - 17:00 (21:30 - 06:00); Sat 09.30 to 13:00 (22:30 - 02:00)
Office hours: Mon - Thurs 08:30 - 18:00 (check internet for local time equivalent)
Fri 08:30 - 17:00; Sat 09.30 to 13:00
Basque Pyrenees – 6 nights
Approaching San Sebastian
Mary admiring pretty Pasaia
Jaizkibel ridge
Colourful Hondarribia
Meadows and hills
A quiet day in Pasaia
The sheltered bay of San Sebastian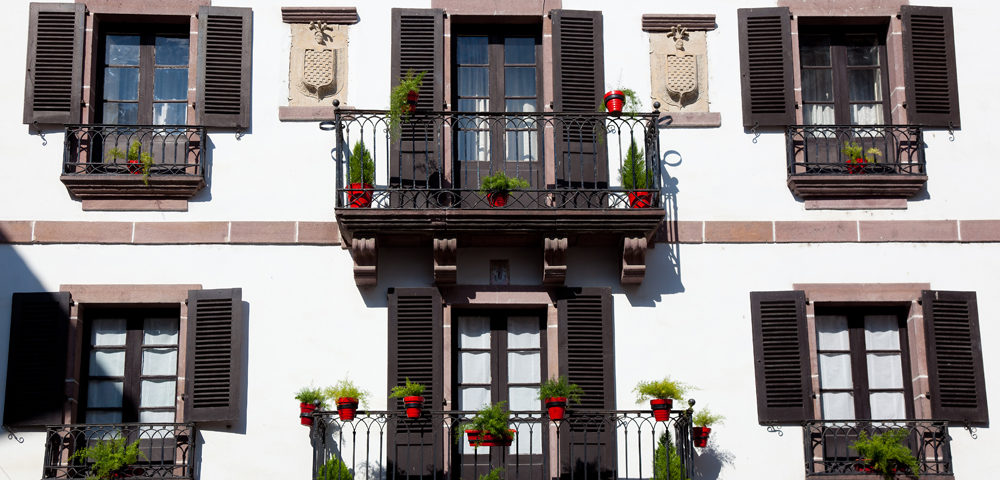 Basque architecture in Elizondo
Travellers Reviews
New route 2019
Travellers reviews will be listed here
At a glance
Basque Pyrenees 6 night version - starting with one night in characterful Elizondo, capital of the Baztan valley.
How much walking?
Full days: 15½-24 km per day, 4½-6½ hrs walking
Using shortening options: 12-17km per day, 3½-4½ hrs walking
To the Atlantic and San Sebastian
Of our two walks in the Basque region of northern Spain, this is the true centre of Basque culture – the well-kept villages of the western Pyrenees, for centuries protected from incursion by the mountains. Furthermore it is a border zone, with French influences strong, particularly between Bera and Hondarribia. Be prepared for an incomprehensible language (though Spanish, French and even English are widely spoken), and an outgoing friendliness resulting from the pride of being born Basque.
You will experience some extraordinary village architecture, unspoilt farming country and wild ridges, great views into both France and Spain, and the satisfaction of arriving at the sea, and taking a small boat across the water to Hondarribia, a town with an incomparable old walled centre. Then, for the hardy, a triumphant long ridge walk to San Sebastian, a city you have to visit, and best approached from our cliff-top walk.
Important note: Our routes assume one night only in San Sebastian, but there is more room/hotel availability if you are able to spend two or three nights in this popular destination, so try and build in extra nights here if you have the flexibility.
Walked by On Foot staff: Simon and Mary.
TRAVEL ADVICE: To find the latest travel advice from the Foreign & Commonwealth Office for UK citizens travelling to Spain, click here. Citizens of other nations will also find it useful, but should always check their appropriate local agency.
Route Highlights
Authentic Basque culture in gentle countryside
A generous-hearted people
Traditional unspoilt village architecture
Impenetrable language interpreted with laughter but a good mix of French, Spanish and English spoken
San Sebastian – City of Culture, and La Concha beach (Europe's best beach according to TripAdvisor)
This route features the following characteristics and interests: Coast, Mountains, Villages and farms, Birdwatching
We Recommend
Extra nights en route in Bera, extraordinary Hondarribia and of course the City of Culture (and "Pintxos") San Sebastian
Practise your Basque
"Excuse me, could you tell me the way to the bakers'?  I need a loaf of bread and a pint of milk" translates as "Barkatu, ezin esan olerkarientzako bidea? Ogi polita eta esne-pintxo bat behar dut."
But don't worry – the son or daughter will oblige with some perfect English (or at least French) and invite you for a coffee if you have time?
How much Walking?

Full days: 15½-24 km per day, 4½-6½ hrs walking
Using shortening options: 12-17km per day, 3½-4½ hrs walking
The first day's walking is largely unsigned so care needs to be taken to follow the route notes and maps carefully. After this the route is mainly on GRs and well signed. Highest point on route: 760m. Some narrow paths with drops may worry the acrophobic (avoidable by chosing shorter options).
Medium-hard/hard: Average cumulative uphill stretches (CUSs) 855m (800m-1030m) per day.
Medium: CUSs 5000m (410m – 550m) per day using shortening options where available, including some taxi transfers (local supplement)
GPX file available for handheld GPS or smartphone App for complete route.
Important note: Times given for each day are  walking times for an "average" walker and exclude stops. "CUSs" stands for "Cumulative Uphill Stretches" and measures the aggregated ascents in each day, expressed in metres of climb. See "Walk Grading" for more information.
When to go?
The Basque Pyrenees are at their best in the spring (late April-June) or September. The second half October can be misty, restricting the views. Summer can be hot and busy, particularly in San Sebastian – July and August are not possible for this reason. Single night stays in San Sebastian at weekends can be problematic so avoid landing there on weekends and holidays if you don't want an extended stay there. N.B. Avoid San Sebastian from 21 until 29 September 2019 – it's the Film Festival and hotels are incredibly expensive.
Start Dates
Recommended
Possible
Unavailable
Weather Chart
Rainfall and temperature chart for Elizondo
Itinerary
Day 1 - Arrive in Elizondo
Elizondo is the chief town of the Baztan valley, with many old buildings and a pretty riverside.  Your hotel is almost on the bridge over the river, in the historic quarter.
Day 2 - Elizondo to Erratzu
Leaving Elizondo behind, this morning you will climb the hills above the Baztán valley before descending to the remote valley of Iñarbegui, with views across to impressive Mt. Auza. Then follows a pretty gorge (you can take a detour to visit the Xorrokin waterfalls) before the walk takes you into Erratzu, where you will stay. A shorter, easier version follows the longer for 4km then winds northwards, gently descending through bucolic farmland to pretty Erratxu. (Main route: 4¾hrs, 16½km, CUSs 725m, short route: 4¼hrs, 12km, CUSs 585m)
Alternative: None, except to ride with the luggage the whole way. Organise this the night before with Aznar.
Day 3 - Erratzu to Etxalar
A lovely day full of contrasts. Climb up to the ridges, visiting pretty Urrasun and Zuaztoi along the way before joining the GR11. Then cross meadows, farms and oak and beech woods, with views to truly savour. Leave the GR to descend gently to Etxalar, probably the most beautiful village of the whole trip! (5¾ hrs, 22½ km, CUSs 820m).
Alternatives: If you prefer a more gentle day, take a taxi lift (paid locally – €10) to Otsondoko pass and join the GR11 after a gentle climb. (4¼ hrs, 16¾km, CUSs 550m), or just miss the first 2½km, to the main road at Arribiltoa (5hrs, 19km, CUSs 820m).
Day 4 - Etxalar to Bera
Start the day with a lung expanding climb out of Etxalar. At first in oak woodland, you will soon be  enjoying views across to two valleys before reaching the Lizaieta pass, on the border between Spain and France. Those seeking more of a challenge will choose to bag Ibantelli for its 360 degree views but if you prefer a gentler walk just keep walking along the GR11. The walk ends in Bera, where you will enjoy a very comfortable hotel. (4½hrs, 15½km, CUSs 800m, or without Ibantelli just 3½ hrs, 13¼km, CUSs 500m )
Day 5 - Bera to Hondarribia
A day of many parts! A long climb up at the start of the day is richly rewarded by some fabulous ridge top walking – don't shirk the peaks either as, on a clear day, you can see for miles around. For a while you straddle the Spanish/French border – literally having a foot in each country. Then you very definitely enter France for the afternoon and only re-enter Spain when you take a little boat from Hendaye to Hondarribia (one of Spain's most historic towns) where you will spend the night, having first sampled its restaurants and cafés. (5½ hrs, 20km, CUSs 900m)
Alternatives: If you would like to shorten the walk and lose all of the early climbing organise with Aznar  the evening before, a taxi to the Ibardin Pass. Pay locally, ~€15. (4 hrs, 16½ km, CUSs 410m)
Day 6 - Hondarribia to San Sebastian
The walk starts with quite a pilgrimage up to the Guadalupe sanctuary (worth a quick visit) before ascending further to the impressive Jaizkibel coastal ridge, with views for miles. Then descend dramatically into Pasaia, an authentic sailing and fishing village from the Middle Ages and the ideal place for a coffee or beer stop. A short boat trip takes you to the other side of the harbour where you will then continue with a gentle coastal walk into beautiful San Sebastian. Congratulations! (as designed 6½ hrs actual walking, 24km, CUSs 1030m, or easier off-ridge option 24 km, CUSs 790m)
 Alternatives: Shorten the walk by travelling with the luggage as far as Pasaia – leaving 8km, 2¼ hrs actual walking, CUSs 415m).
Depart from San Sebastian
…or, better, stay a day or two longer to enjoy this former City of Culture, masquerading as a seaside resort with two great sandy beaches, and self-proclaimed "pintxo capital".
Travel Information
ARRIVING BY AIR
The best airports with European flights are Biarritz (France) and Bilbao (Spain). Intercontinental flights use Madrid, followed by an internal flight to Pamplona (nearest to the start).
Land by:
Pamplona – 17:00 for local bus (not Sundays) to Elizondo, 19:00 for pre-booked taxi (supplement) the whole way.
Biarritz – 19:00 for pre-booked taxi transfer (supplement) c. 1¼ hrs)
Bilbao – 13:30 for local buses (2) via San Sebastian, or 17:00 for pre-booked taxi transfer (supplement) c. 2¼ hrs).
Return flight earliest:
Bilbao – 9:00 am (after regular shuttle from San Sebastian)
Biarritz – 13:00 (ditto)
Flight information can change rapidly and not all flights run daily. Please do check directly with the airlines' websites or Skyscanner (see below) before finalising any booking with us. Do not book your flights until we have confirmed that we have provisionally reserved accommodation for you.
For up-to-date schedules and flights from all airports check Skyscanner.
ARRIVING BY TRAIN
Nearest railway station:
Start: Pamplona or Hendaye/Irun – pre-bookable taxi to first hotel included in price from Hendaye/Irun, supplement from Pamplona
Finish: San Sebastian
Getting to the start of the walk
The first hotel is in the village of Ziga (or Elizondo or Erratzu), and the last in San Sebastian. Transfer times and methods are suggested for Pamplona, Biarritz and Bilbao airports below. For train arrival transfers see below.
PAMPLONA AIRPORT (or train station):
Outward: Short taxi to centre then bus (not Sundays, best 13:15 or 19:30, 45 mins), plus taxi to Ziga if required (small supplement), or pre-booked taxi the whole way (supplement)
Return: Best via Bilbao if returning to Madrid
BIARRITZ AIRPORT:
Outward: Taxi only, pre-booked (1¼ hrs)
Return: Airport bus from central San Sebastian 4 times daily, or pre-booked taxi (supplement)
BILBAO AIRPORT:
Outward: Hourly shuttle to San Sebastian, then bus to Elizondo (plus short taxi ride if staying at Ziga, pre-booked (small supplement), or pre-booked taxi transfer the whole way (supplement) c. 2¼ hrs)
Return: Hourly shuttle from San Sebastian (1¼ hrs), or pre-booked taxi (supplement)
If coming by train – a pre-booked taxi from Irun/Hendaye is included in the price (supplement for weekend/holiday starts). We can also pre-book a taxi to meet you at Pamplona station (supplement)
Full transfer advice, including timetables, is provided in your Walkers' Pack. Contact us if you would like additional pre-booking information. For taxi prices see "Prices".
Where You'll Stay
The accommodation in the Basque Country is charming – family run, well-kept and often very historic. As you reach the coast the hotels become more sophisticated, and in Hondaribbia and San Sebastian you have a real choice between good value rooms and some substantial upgrades (a Parador in Hondaribbia and the august Hotel Londres in San Sebastian, directly overlooking the main beach.
Important: as this is a very rural area, we need advance warning of any special dietary requests so that we can advise you appropriately. Special diets may be difficult to cater for.
Prices
Total 6 nights in double/twin room, 6 breakfasts (room only in San Sebastian) and 3 evening meals, taxi from Irun/Hendaye station to first hotel*, luggage transfers between all hotels on walking route; full Walkers Pack with route directions, maps, transfer and background information; local telephone support.
*Mon – Fri starts, supplement for weekends and holidays
All prices are per person unless otherwise indicated, and are based on a standard booking in May. Prices may vary seasonally and a fixed price will be given to you before you commit.
Single Room Supplement: From £205
Lone Traveller Additional Supplement: From £190
Larger Party Saving (LTS): Groups of more than 2 people (on an identical itinerary, on the same booking and booked at the same time) – discount of at least £35 per person
Maximum party size: 12 (some accommodation variation needed for groups of 6+)
Add Ons
Extra nights possible throughout the route: Contact On Foot for ideas and prices
Further nights at end of holiday in San Sebastian: Prices vary with season, hotel/B&B/Pension, room type and length of stay. Contact us
Taxis from/to airports/train stations: Possible (Biarritz, San Sebastian, Pamplona only). Contact On Foot Holidays for prices.
Sending Walkers Packs to addresses outside the UK and Ireland:  £10-£40 (per pack, location dependent)
Arrange locally: Local train/bus/taxi as required
Travellers Reviews
New route 2019
Travellers reviews will be listed here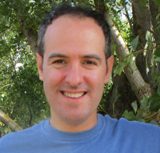 Route designed by:
Aznar Fernandez de Pinedo
Aznar was born and grew up in Bilbao, where he soon developed his love for nature (he is a keen naturalist), hiking and the rural environment in general. He studied Business and has worked for many years in multinational corporations in the IT sector, living in both Barcelona and Madrid. But in 2014 he decided to change his career to work on what he loves most.

Sign up to our Newsletter
Witty, compelling and full of fantastic ideas for your
next walking holiday. It's the perfect travel companion!