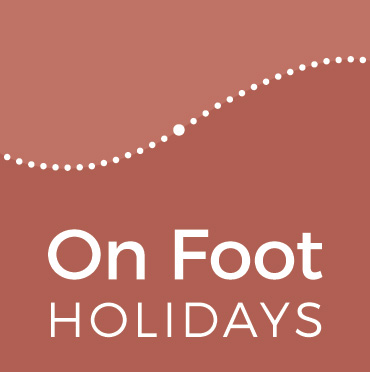 View Shortlist
Office now closed
Opening Times
Office hours: Mon - Fri 09:00 - 17:30; Sat 09:30 - 13:00
Office hours: Mon - Fri 09:00 - 17:30; Sat 09:30 - 13:00
Office hours: East Coast USA: Mon - Fri 09:00 - 17:30 (04:00 - 12:30 local time); Sat 09:30 - 13:00 (04:30 - 08:00)

West Coast USA: Mon - Fri 09:00 -17:30 (01:00 - 09:30 local time); Sat 09:30 - 13:00 (01:30 - 05:00)
Office hours: Ottawa: Mon - Fri 09:00 - 17:30 (04:00 - 12:30 local time); Sat 09:30 - 13:00 (04:30 - 08:00)

Vancouver: Mon - Fri 09:00 - 17:30 (01:00 - 09:30 local time); Sat 09:30 - 13:00 (01:30 - 05:00)
Office hours: Canberra: Mon - Fri 09:00 - 17:30 (20:00 - 04:30 local time); Sat 09:30 - 13:00 (20:30 - 24:00)
Office hours: Mon - Fri 09:00 - 17:30 (22:00 - 06:30 local time); Sat 09:30 - 13:00 (22:30 - 02:00)
Office hours: Mon - Fri 09:00 - 17:30 (check internet for local time equivalent); Sat 09:30 - 13:00
Castles of the Rhine – 4 nights
The paddlesteamer
Bacharach
St Goarshausen from the Lorelei
St Goar
Kaub
Schloss Rheinstein
The Boppard bend
Mist over the Rhine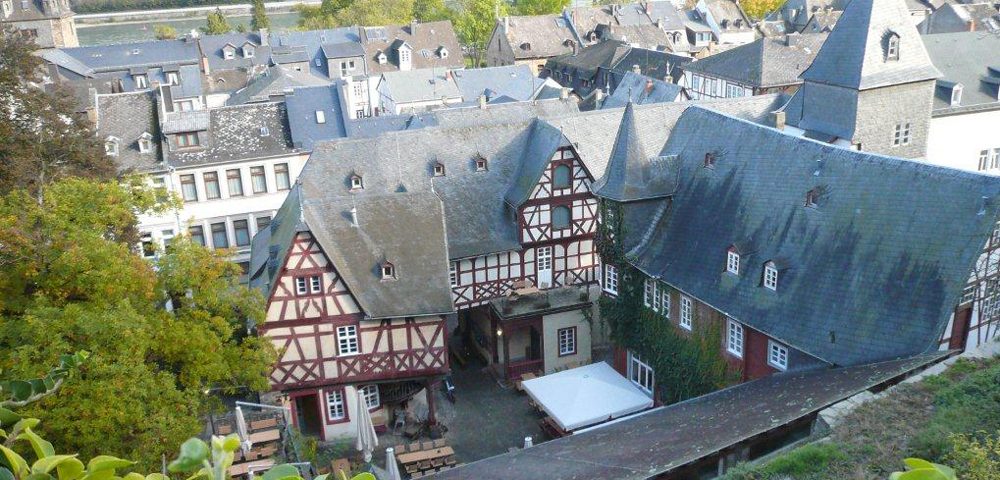 The Posthaus in Bacharach
Vineyards on the slopes of the Rhine
Rhens Town Hall
Vineyards in Autumn
A tea break with a view
Schloss Rheinfels! Worth the splurge. A lovely hotel with a very appealing outdoor patio overlooking the beautiful Rhine for drinks. Our room was beautiful with a with a dazzling big bathroom! We enjoyed excellent breakfast and dinner in the charming dining room.
Susan Gaits, New Jersey, USA - September 2023
Very friendly and helpful service from all On Foot staff. A real pleasure to book with. Really helpful in making a booking for our son to join at the weekend. We loved the flexibility of this itinerary. The [unseasonably] hot weather forced us to reduce the walking to half days: there were always lots of other options to pursue with ferries, trains, castles and numerous interesting small towns by the Rhine.
Norman and Alison Eley, Crowthorne, UK - September 2023
I love the idea of the 'journey being the destination'. This was the trip of a lifetime. Everything about it was perfect. I never wanted it to end!
Amy Neiman, Monterey, USA - July 2023
The organisation by On Foot was 2nd to none: the documentation provided was extensive and covered all aspects of the walk. For the walk itself there were large scale maps, a superb step-by-step guide as well as GPS mapping. For each accommodation along the route there were suggestions for eating out. Timetables for both ferries and trains were also provided. As this was a 'solo walk' all of this information gave me great confidence, as well as making sure that I didn't 'miss out' on anything. I have walked 'with' a few companies over the years but none have provided such guidance. Superb! Would I recommend it? In a heartbeat. Thanks, On Foot Holidays.
Tony Phillips, Prenton, UK - June 2023
Stunning area. Warmth and hospitality we received throughout our holiday. Schloss Rheinfels! Everyone felt that the area exceeded their expectations. You were the only operator that we could see in the UK offering this walk and and we particularly wanted to do this area.
Christine and Peter May, Newmarket, UK - June 2023
We have been on 3 other On Foot Holiday trips and they all have been fantastic. You get good value for the price of the trip. And being able to see a part of Europe on foot, up close, and enjoy the paths and towns in a leisurely way is a joy.
Cathy Bergeron, Vermont, USA - May 2023
We loved the holiday, out of season it felt like a hidden gem. Wines were amazing and we weren't aware of them before we went.
Andy and Vicky Lack, London, UK - April 2023
The walks were brilliant. Getting the big climbs out of the way first thing was ideal. The footpaths were all really well signed. The views were gobsmackingly good.
Peter Creek, Embsay, UK - September 2022
The combination of notes, GPS and excellent and detailed maps made this walk trouble free and offered absolute peace of mind in that we always knew exactly where we were walking at any one time.
Paul John, Nottingham, UK - September 2022
The Castles of the Rhine was our third walking holiday with On Foot Holidays and was the best so far, helped by the warm sunny weather which meant jumpers remained in the suitcases the whole week.
Michael and Margaret Stubbs, Godalming, UK - June 2022
Unbelievably well organized and so thrilling to explore this world heritage site - the sparkling Rhine river, steep vineyards, flat areas on top with well-sited gazebos, challenging downhills past more castles and lush forests - friendly people and hikers to meet on the trail - On Foot, as usual, planned each and every step for us to perfection.
Hiking is hard but knowing you will be at an exquisite hotel or inn with a fresh, delicious dinner or breakfast in each place... Could not have been more perfect!
Anon - April 2022
Fantastic holiday.
Amazing scenery. Challenging but achievable walks. Great wildlife. Good information with options if required.
Robin Felton, Shrewsbury, UK - September 2019
It was truly one of the best vacations we've ever taken! Having the great notes, the local guide to reach out to if we needed help, the maps, was such a comfort to us since this was a completely new experience for us.
We are an older couple not in the best of shape. We were able to tailor our walk to meet our capabilities. The hotel owners were all very nice and helpful too. It was FANTASTIC!!!!
Charles Ulrich, US Virgin Islands - June 2019
Beautiful vistas and nice tough walks for each of the days.
Nice to disconnect and just walk the area. Pretty much exactly what we were looking for. Thank you.
James Smadbeck, Rochester, USA - April 2019
Spectacular scenery, great walks and interesting, sometimes quirky accommodations, all varied. We especially liked staying in a real castle in Kamp-Bornhofen at Burghotel Liebenstein.
The route maps were spot on and helpful hints on dining options rounded out a superbly well-planned trip. We will continue to use you in the future, since self-guided walks are the way to experience a destination in a local and authentic way. Well done.
Kevin Abell, Maryland, USA - June 2017
More independent feedback
At a glance
4 nights (3 walking days) - starting in Kaub and finishing in Rhens, but still giving a good taster of the Rhine Gorge. See 'Prices' tab for what's included.
How much walking?
Full days: 18-21 km per day, 6½ - 6¾ hrs walking
Using shortening options: 7-10 km per day, 2-3½ hrs (using buses/trains/boats to reduce walking)
Castles and the Romantic Rhine
The Rhine Gorge is unique. Its 20 castles, perched high above the river, some visitable, bear witness to a crucial role in the history of Europe, and to its iconic "Romantic" status for painters, poets and composers.
It is busy and exciting too – the barges negotiating sharp bends and the toy trains (for that is how they look from the footpaths high above), and the river towns and villages – many very old and still wholly or partially fortified – make a pleasant variation from the rural walking. It is also a wine route – every village is proud of its own Riesling vineyards and you will have the chance to sample their produce when you sup after a walking day.
Walked by On Foot staff: Simon and Debbie
REVIEWS: For independent walker reviews submitted to the Association of Independent Tour Operators visit Aito.com.
ARTICLES: Read an article about On Foot's Castles of the Rhine holiday from The Guardian newspaper here.
TRAVEL ADVICE: To find the latest travel advice from the Foreign & Commonwealth Office for UK citizens travelling to Germany, click here. Citizens of other nations will also find it useful, but should always check their appropriate local agency.
Route Highlights
The spectacular Rhine Gorge
20 castles high above the river
The Loreley, St Goar and Roman Boppard
Riesling and beer gardens
This route features the following characteristics and interests: Drive to route, History, Wine
Eating and drinking
There are some excellent chefs en route – notably  Edgar and Willi at Kaub, and Werner at Rhens.  Werner specializes in "Wildgerichte" from his own hunt – so venison and wild boar in particular.  He recommends a local red wine – Dornfelder from Weingut Kronen-Hof – but a richer Riesling will also work well with "Wild".
How much Walking?

Full days: 18-21 km per day, 6½ - 6¾ hrs walking
Using shortening options: 7-10 km per day, 2-3½ hrs (using buses/trains/boats to reduce walking)
Excellent,well-marked and well-surfaced paths and good signage.  Tough climbs away from the river but short (typically 100m – 150m ascent).  Highest point on route: 470m.
Medium-hard: Average cumulative uphill stretches (CUSs) 587m (450m-830m) per day.
Easy: CUSs 243m (200m – 280m) per day using shortening options (available each day).
Acrophobia/vertigo warnings: None.
Important note: Times given for each day are  walking times for an "average" walker and exclude stops.  "CUSs" stands for "Cumulative Uphill Stretches" and measures the aggregated ascents in each day, expressed in metres of climb.  See "Walk Grading" for more information.
When to go?
The best months to walk: May, June, July, September, October
Other possible months: April, August, November
This is a route that can be walked from April through to the beginning of November, though accommodation can be difficult to secure during 'Rhein in Flammen' weekends, particularly those in September, and the public holiday at the start of October.  The heat of the summer is kept at bay on many days by woodland, though if you do walk in high summer take lots of protection against the sun, else will you ripen as the grapes. Best time to walk – May (except for Ascension), June and late September/early October – for spring flowers and fragrant vineyards later in the autumn.
Start Dates
Recommended
Possible
Unavailable
Weather Chart
Temperature and rainfall chart for Oberwesel
Itinerary
Day 1 - Arrive in Kaub
Your first night is in Kaub, where Edgar and Willi will welcome you as born hosts.
Day 2 - Kaub/Oberwesel to St. Goar
Cross over by ferry to Oberwesel and walk  to St Goar past TV's Günderodehaus, through fields opposite the Loreley for the best views of the fabled rock. (Easy-medium: 3½ hrs, 10km, CUSs 280m). Extend the walk past massive Burg Rheinfels, a ruin that does not bely its complex military history and on to pretty Hirzenach via some wonderful and surprising vistas high above the river (Medium-hard: 6¾ hrs, 21km, CUSs 480m Oberwesel-Hirzenach).
Day 3 - St. Goar to Kamp-Bornhofen
Cross over to St. Goarshausen and, continuing your route northwards along the Rheinsteig, climb quickly up the valley side again and stay there amongst the fields and open skies, dipping down into woodland at Burg Maus before rising again to arrive finally at a castle at teatime, Burg Liebenstein (upgraders will stay here), and descending to the river again at Kamp-Bornhofen. (Hard: 5½ hrs walking (allow 7¼ hrs), 18¾ km (11½ miles), CUSs 830m). Easier alternative – this tough day can be shortened by 3 hours by taking the train (Easy: 3 hrs walking (allow 4 hrs), 8 km (5 miles), CUSs 250m)
Day 4 - Kamp-Bornhofen to Rhens
After a short walk to riverside Filsen, cross the river to Roman Boppard, the largest of the gorge towns, for an early lunch and a ramble round the old streets and Roman fort, before climbing away from the river (you can use the chair lift instead!) and over the top via 4-Seen-Blick (the Rhine seems like four separate lakes from this point) and down to pretty Rhens, and your overnight stay in an old inn, complete with beer terrace, smiling waitresses and excellent kitchen – your host Werner is the chef.  (Medium: 6 hrs walking (allow 8 hrs, 19¼ km (12 miles), CUSs 450m). Alternative – walk as far as Filsen/Boppard for a leisurely lunch, then train to Rhens.  (Easy: 2¼ hrs walking (allow 3 hrs), 9 km (5½ miles), CUS 200m)
Departure day
Return home – or why not stay a further night and make the most of the museums, castles (Fortress Ehrenbreitstein in Koblenz is now accessible by cable car across the Rhine), gardens and restaurants that the Rhine, with its amazing transport network, offers?
Travel Information
ARRIVING BY TRAIN
Nearest railway station:
Start: Kaub
Finish: Koblenz
Sample journey by rail:
Via Frankfurt: Direct to Kaub ~1½ hr.
Koblenz or Rhens to Frankfurt: ~2 hrs.
We suggest thetrainline.com for times, ticket booking and other information.
ARRIVING BY CAR
Drive to Rhens (leave your car on street, train back to the start of the route).
ARRIVING BY AIR
Two airports serve the route – Frankfurt International (best, ~1½ hrs by train to start and from finish – and best for intercontinental arrivals) and Cologne Bonn. Frankfurt Hahn is not recommended as it is nowhere near Frankfurt.
Land by: Frankfurt International 18:00, Cologne Bonn 16:00 for public transport connections to first hotel.
Return flight earliest: 12:00 (14:00 on Sunday) both airports for connections from Koblenz.
Flight information can change rapidly and not all flights run daily. Please do check directly with the airlines' websites or Skyscanner (see below) before finalising any booking with us. Do not book your flights until we have confirmed that we have provisionally reserved accommodation for you.
For up-to-date schedules and flights from all airports check Skyscanner.
See "Getting to the start of the walk" below for transfer information.
Getting to the start of the walk
The first hotel is normally in Lorch (Kaub for shorter versions), and the last in Koblenz (Rhens for shorter versions). Transfer times and methods are suggested for train arrivals and for the two nearest airports below.
Transfers from train stations:
Outward:  Local taxi or 10 minutes walk to first hotel
Return: 5-7 minutes walk to Koblenz or Rhens stations
FRANKFURT INTERNATIONAL AIRPORT:
Outward: By train with 1 change, ~1½ hr
Return: By train (direct), ~1¼ hrs
COLOGNE-BONN INTERNATIONAL AIRPORT:
Outward: By train with 1-2 changes, 2-3 hrs
Return: By train (0-1 changes), ~1½ hrs
Full transfer advice, including timetables, is provided in your Walkers' Pack.  Contact us if you would like additional pre-booking information.
Where You'll Stay
The accommodation across the route is very friendly and often aimed at walkers. Do consider an upgrade room at our captive castle in St Goar and/or a room with a view at Burg Liebenstein just outside of Kamp-Bornhofen.  Please note that twin rooms are often 'Austrian twins' – that is, separate mattresses and bedding on the same bed frame.
Night 2
St Goar – Schloss Rheinfels (B&B)
Imposing castle above St Goar with classy accommodation and restaurant with fine river views. German twin beds (large single base with two mattresses).
Night 3 (Upgrade)
Kamp-Bornhofen – Burghotel Liebenstein (dinner, B&B)
Small medieval castle perched high above Rhine, now a small hotel complete with oak panelling, wrought iron sconces and fabulous river views which win out over the sometimes questionable culinary experience (dinner obligatory).
Kaub – Hotel Deutsches Haus (B&B)
A friendly village restaurant with basic rooms above. Near railway.
Website
St Goar – Schloss Rheinfels (B&B)
Imposing castle above St Goar with classy accommodation and restaurant with fine river views. German twin beds (large single base with two mattresses).
Website
Kamp-Bornhofen – Hotel Becker (B&B)
Charming, well-furnished hotel with good restaurant and wine-tasting opportunities.
Website
Kamp-Bornhofen – Burghotel Liebenstein (dinner, B&B)
Small medieval castle perched high above Rhine, now a small hotel complete with oak panelling, wrought iron sconces and fabulous river views which win out over the sometimes questionable culinary experience (dinner obligatory).
Website
Prices
Price: from £
770
for 4 nights
Total 4 nights in double/twin room, all breakfasts, 1 picnic, luggage transfers between all hotels on walking route; full Walkers Pack with route directions, maps, transfer and background information; local telephone support.
All prices are per person unless otherwise indicated, and are based on a standard booking in May. Prices may vary seasonally and a fixed price will be given to you before you commit.
Single Room Supplement (SRS): From £145
Lone Traveller Additional Supplement (LTAS): From £165
Large Party Saving (LPS): Groups of more than 2 people (on an identical itinerary, on the same booking and booked at the same time) –  discount of at least £20 per person
Maximum party size: 16
Add Ons
Upgrade room at Schloss Rheinfels in St Goar and/or upgrade to Burg Liebenstein in Kamp-Bornhofen (includes evening meal): Varies with season and room type – contact On Foot.
Extra nights in any hotel: Contact On Foot Holidays
Sending Walkers Packs to addresses outside the UK:  £20-£60 (per pack, location dependent)
Our local team
Beatrix Greiff
Beatrix lives on the route and has a portfolio career encompassing jewellery making and being a PA. She is bilingual in German and French and fluent in English.


Sign up to our Newsletter
Witty, compelling and full of fantastic ideas for your
next walking holiday. It's the perfect travel companion!