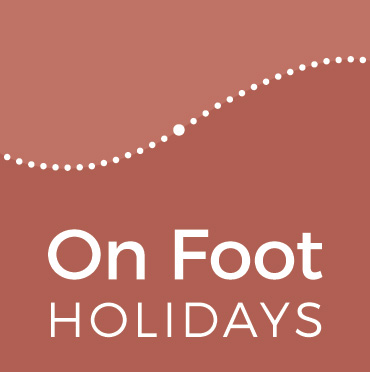 View Shortlist
Office now closed
Opening Times
Office hours: Mon - Fri 09:00 - 17:30; Sat 09:30 - 13:00
Office hours: Mon - Fri 09:00 - 17:30; Sat 09:30 - 13:00
Office hours: East Coast USA: Mon - Fri 09:00 - 17:30 (04:00 - 12:30 local time); Sat 09:30 - 13:00 (04:30 - 08:00)

West Coast USA: Mon - Fri 09:00 -17:30 (01:00 - 09:30 local time); Sat 09:30 - 13:00 (01:30 - 05:00)
Office hours: Ottawa: Mon - Fri 09:00 - 17:30 (04:00 - 12:30 local time); Sat 09:30 - 13:00 (04:30 - 08:00)

Vancouver: Mon - Fri 09:00 - 17:30 (01:00 - 09:30 local time); Sat 09:30 - 13:00 (01:30 - 05:00)
Office hours: Canberra: Mon - Fri 09:00 - 17:30 (20:00 - 04:30 local time); Sat 09:30 - 13:00 (20:30 - 24:00)
Office hours: Mon - Fri 09:00 - 17:30 (22:00 - 06:30 local time); Sat 09:30 - 13:00 (22:30 - 02:00)
Office hours: Mon - Fri 09:00 - 17:30 (check internet for local time equivalent); Sat 09:30 - 13:00
Greece: Peloponnese – 5 nights
Hilltop Dimitsana (photo: Ollirg/Dreamstime)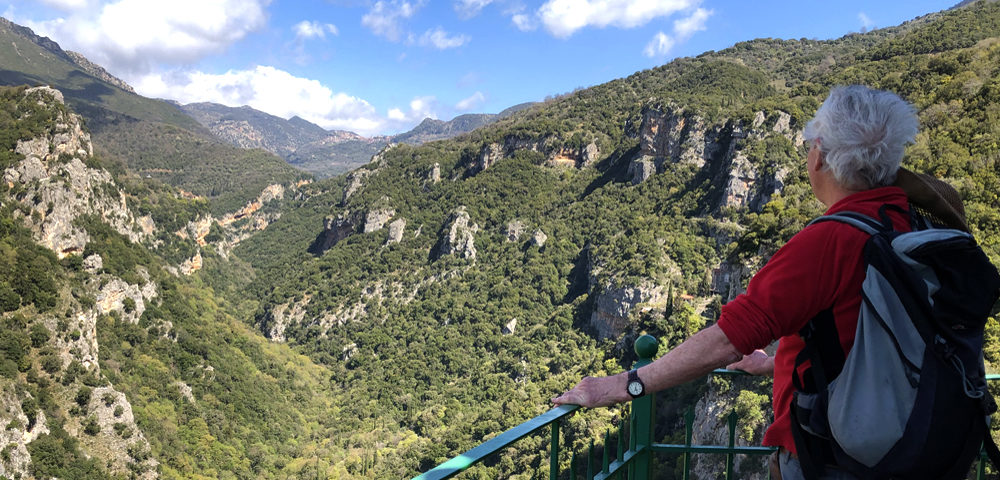 A bird's eye view of Louisos Gorge
Mountains and meadows
A refreshing mountain stream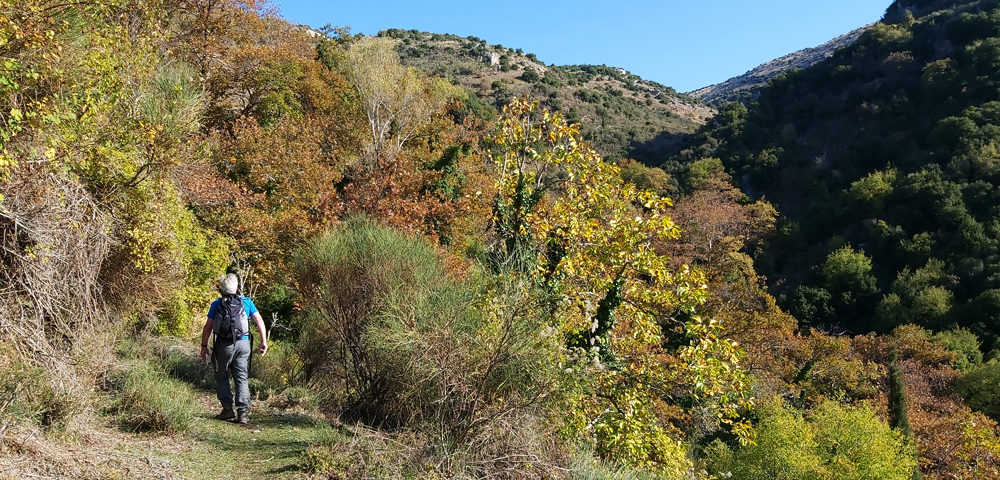 Autumn colour
Prodromos Monastery
View towards Lagadia
Dancing in the streets
Lousios Gorge (spot the monastery!)
A stone bridge in the valley
Descending from Stemnitsa
Fresh mountain springs
This is a new route, so we welcome walkers' reviews in due course!
At a glance
Greece - Peloponnese 5 night option (4 days walking) from Lagadia to Dimitsana, missing the night in Elati. Add extra nights in Vitina, Stemnitsa and Dimitsana to relax and experience the culture of the region. See 'Prices' tab for what's included.
How much walking?
Full days: 14-22½ kms per day, 5-8½ hrs walking
Using shortening options: 9-16 kms per day, 2½-5 hrs walking using taxi starts
Walking the Menalon Trail the On Foot way
Using many of the old paths and mule tracks that linked the villages with the fields, pastures and forests of this remote part of the region, the Menalon Trail winds through scenic hills and some pretty (and still thriving) ancient stone villages. This is an area visited by Greeks in the winter, while the spring and autumn are the preserve of the hill walkers.  Even the summer is possible (though July in particular can be very hot) as much of the walking is in native pine and fir forest, with dappled sunlight enlivening the shade.
Enjoy the villages for their tavernas, local industries (for example jewellery in Stemnitsa), little shops, churches and old houses, but above all a sense of life and liveliness that few can match.  If you are lucky, the local dancers will be performing, and the wine will flow freely.
The area is named after the massif that forms the backbone of the Peloponnese (all of mainland Greece south of the Corinth Canal), and this route could be used as the core of a longer holiday in the region – perhaps you could take in the sites of Mycenae, Epidaurus, Olympia and many others; hiring a car from the airport will also reduce transfer costs (see "prices").
This is the 5-night version of the walk, for when accommodation in Elati is unavailable or for groups of 5+.
Walked by On Foot staff: Debbie, Andy and Simon
TRAVEL ADVICE: To find the latest travel advice from the Foreign & Commonwealth Office for UK citizens travelling to Greece, click here. Citizens of other nations will also find it useful, but should always check their appropriate local agency.
COVID-19 SAFETY PRECAUTIONS: Please read our summary of current regulations.
Route Highlights
Lagadia, the stonemasons' village, your dramatic start point
The working monasteries of Kernitsas, Prodromos and Filosofou
Stemnitsa, the jewellery makers' village
Vibrant Dimitsana
Walking the remote hills of the Menalon massif
This route features the following characteristics and interests: Mountains, Pilgrimage, Remote, Villages and farms, Woods, Archaeology, Drive to route, History
We Recommend
Extra nights in Vitina, Stemnitsa and Dimitsana. Hire a car at the airport to include this as part of a wider Peloponnese experience (Epidaurus, Mycenae - maybe a beach?).
Food and drink
Haute cuisine you will not find, but honest Greek mountain food (and quaffable and very cheap wine!).  Vegans and the gluten-free will struggle.  Make sure that you seek out the best spinach and cheese pastries (an excellent constituent of your picnic lunch).  In Stemnitsa you can watch the patissiers making an array of local sweets and patisserie that you can take back home as a gift… yoghurt and honey will be on every breakfast table, together with local delicacies, and mountain tea is a must for the uninitiated.
How much Walking?

Full days: 14-22½ kms per day, 5-8½ hrs walking
Using shortening options: 9-16 kms per day, 2½-5 hrs walking using taxi starts
Paths are very well flashed, with Menalon Trail markers every 50m or so, though careful attention is needed to ensure you stay with them. Highest point on route: 1550m. Vertigo not an issue except for very short sections. Shortening options allow mixed ability groups to enjoy this route.
Hard: Average cumulative uphill stretches (CUSs) 883m (760-1060m) per day.
Medium: CUSs 600m (480m-825m) per day using shortening options where available. Note that the final must-do day is quite tough, even if shortened.
GPX file available for handheld GPS or smartphone App for complete route.
Important note: Times given for each day are walking times for an "average" walker and exclude stops. "CUSs" stands for "Cumulative Uphill Stretches" and measures the aggregated ascents in each day, expressed in metres of climb. See "Walk Grading" for more information.
When to go?
The best months to walk: May, June, September, October
Other possible months: April, July, August, November
This is a route that can be enjoyed from April (though avoiding Greek Orthodox Easter) to November, though the summer can be hot even here in the mountains.  Best time is May/June for the flowers, though you could go in September/October and combine with a break by the warm Mediterranean.
Start Dates
Recommended
Possible
Unavailable
Weather Chart
Itinerary
Day 1 - Arrive in Lagadia
Settle in to your accommodation, wander the streets and little shops, admire the views and choose your first hillside taverna for dinner.
Day 2 - Lagadia to Valtesiniko
A tough climb from Lagadia is rewarded by some lovely views back to the village, before you enter the lush valley of Grilas, complete with threshing floors and even some active (though basic) agriculture, before descending through light pine woodland to an asphalt road. The second half starts off in a great fir forest, ascending to the open ridge of Kastro Valtesiniko, before you descend finally to your destination, the stone village of Valtesiniko. (Medium-hard: 5 hrs walking (allow 7 hrs), 15 km, CUSs 890m)
Easier alternative: Arrange via your host the night before to ride with the luggage as far as the asphalt road (Easy-medium: 3 hrs walking (allow 4 hrs), 10 km, CUSs 540m), or ride the whole way.
Day 3 - Valtesiniko to Vitina
A very long day if done in its entirety. From Valtesiniko the section to Magouliana is wooded, though opens out as it nears the village (the "highest in the Peloponnese", at 1300m). After Magouliana you are rewarded with some great views towards Vitina and the south before plunging into fir forest, and the spring of St. Spirida, where open-air services are commonly held. Out into the open again to reach the Monastery (actually a nunnery) of Panagia Kernitsas – well worth a visit. After the pretty village of Nymfasia you can opt to continue, or take a short cut for an easier, straighter route (or call a taxi if you are tired) to bustling Vitina, with its array of restaurants, attesting to its former glory as a health resort. (Full route: Hard: 8½ hrs walking (allow 10 hrs), 22½ km, CUSs 1060m; Easier option with taxi start: Medium: 5 hrs walking (allow 6¾ hrs), 12 km, CUSs 480m)
Day 4 - Vitina - Stemnitsa
A taxi transfer at the start of the day to pretty Elati. From there the path leads back down to the river for a gentle warmup, before climbing up through the forest to the plateau of Vlachika. After a final steep climb to the col below Pliovouni (1643m – you can bag this peak if you have the energy), a gentle descent to the little town of Stemnitsa, complete with jewellers' workshops, tavernas, the Menalon Trail HQ and the best patisserie for miles. (Medium: 16 km, 5 hrs (allow 6 hrs) CUSs 590m)
Alternatives: None – except to ride the whole way with the luggage.
Day 5 - Stemnitsa to Dimitsana
Your final day and in many ways the best. A majestic path from Stemnitsa leads down into the Lousios valley (the views to your left are big); on reaching the Church of Metamorfosi Sotros the path turns in to the wooded Lousios Gorge, and shortly reaches your first, astounding monastery – Prodromos – clinging impossibly to the cliff face. Enter, and be welcomed by the priests. Onward, over the river, and up to your second monastery, the New Filosofou (after a glance at the Old), quite an oasis after the gorge. The final path leads back down to the river and over, before climbing up towards your destination, hilltop Dimitsana. You may have energy to visit the open-air Water Power Museum just before arrival, or leave it until the morning if you are staying longer. (Medium-hard: 5 hrs walking (allow 7 hrs), 13½ km, CUSs 825m)
Alternatives: Ride with the luggage as far as Metamorfosi Sotros and start from there, still seeing both monasteries (Medium-hard: 4 hrs (allow 5¼ hrs, 10 km, CUSs 825m), or ride the whole way as far as the Water Power Museum and visit that (not Tuesdays) before the final approach to Dimitsana.
Depart for home
…or stay another night in Dimitsana.  This could be a springboard for an extended tour of the Peloponnese?
Travel Information
ARRIVING BY AIR
The nearest "local" airport is Kalamata. Intercontinental flights use Athens.
Land by: Athens 13:00 for public transport connections to Corinth or Tripoli, followed by taxi – later arrivals possible with taxi/hire car the whole way OR stay a night in Athens if arriving late.
Kalamata – no restrictions as taxi/hire car the whole way (2 hrs), but might miss supper.
Return flight earliest: Athens: 16:00 (earlier departures possible with taxi/hire car whole way). Kalamata – no restrictions (taxi/hire car whole way).
Flight information can change rapidly and not all flights run daily. Please do check directly with the airlines' websites or Skyscanner (see below) before finalising any booking with us. Do not book your flights until we have confirmed that we have provisionally reserved accommodation for you.
For up-to-date schedules and flights from all airports check Skyscanner.
See "Getting to start" below for transfer information.
ARRIVING BY TRAIN
Nearest railway station:
Start: Corinth
Finish: Corinth
Only practicable from/back to Athens, and involves taxi transfer to/from route.
ARRIVING BY CAR
Public (non-monitored) parking in Dimitsana (end of route). Pre-bookable taxi from car to first hotel.
Getting to the start of the walk
The first hotel will either be in Lagadia or Vitina (dependent on route version chosen) and the last in Dimitsana. Transfer times and methods are suggested below.
Self-drive: The most cost-effective (and time-flexible) way to get to and from the route is to hire a car from the airport, particularly if you plan to include the walk as part of a longer holiday.  Driving in Greece is not hard and signs are dual 'language'.  Otherwise…
ATHENS AIRPORT:
Outward: Bus x2 to Tripoli (2½ hrs) then pre-booked taxi (1½ hrs). More reliable if staying a night in Athens at start to ensure that you get a bus seat (not pre-bookable) OR Train x2 to Corinth then pre-booked taxi (3½ hrs) OR pre-booked taxi the whole way (2½ hrs)
Return: Short pre-booked taxi to Tripoli then bus to Athens, change for bus to airport (3 hrs) OR pre-booked taxi to Corinth railway station then train to Athens centre, change for train to airport (3½ hrs) OR pre-booked taxi the whole way (2½ hrs)
KALAMATA AIRPORT: Pre-booked taxi both ways.
Full transfer advice, including timetables, is provided in your Walkers' Pack. Contact us if you would like additional pre-booking information. For pre-bookable taxis see "prices".
Where You'll Stay
A lovely range of family-run pensions, with dinners taken in local tavernas (client choice).  Upgrades are available in Vitina and Dimitsana only.
Prices
Price: from £
550
for 5 nights
Total 5 nights in double/twin room, all breakfasts, 3 picnics, luggage transfers between all hotels on walking route and in-walk shortening taxi transfers as required; full Walkers Pack with route directions, maps, transfer and background information; local telephone support.
All prices are per person unless otherwise indicated, and are based on a standard booking in May. Prices may vary seasonally and a fixed price will be given to you before you commit.
Single Room Supplement (SRS): From £140
Lone Traveller Additional Supplement (LTAS): From £90
Maximum party size: 10
Add Ons
Extra nights at any hotel: Contact on Foot Holidays
Taxis serving the route (indicative price based on 1-3 passengers):
Kalamata airport from £147 (per taxi, not per person)
Athens airport  from £230
Corinth railway station from £100
Athens centre from £180
For taxis to/from other origins/destinations in Southern Greece, and for larger party sizes, contact On Foot Holidays.
Sending Walkers Packs to addresses outside the UK: £10-£40 (per pack, location dependent)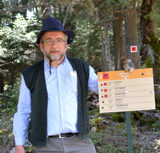 Our local team
Ioannis Lagos – Menalon Social Enterprise
Ioannis Lagos has deep family roots in Stemnitsa, and a passion for hiking. He founded Menalon Social Enterprise along with other enthusiastic volunteers from the Arcadia region, and together they have created the Menalon Trail. They maintain the paths and signposts, and encourage visiting walkers to explore the cultural and natural heritage of the area.

This route was introduced to On Foot Holidays by Ariana Masselou.

Sign up to our Newsletter
Witty, compelling and full of fantastic ideas for your
next walking holiday. It's the perfect travel companion!