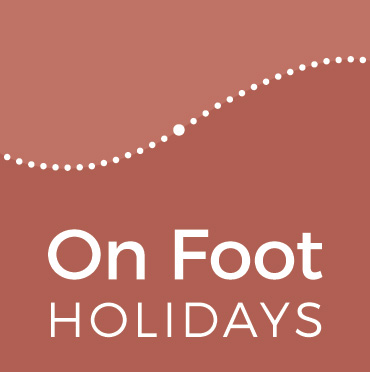 View Shortlist
Office open now
Opening Times
Office hours: Mon - Fri 09:00 - 17:30; Sat 09:30 - 13:00
Office hours: Mon - Fri 09:00 - 17:30; Sat 09:30 - 13:00
Office hours: East Coast USA: Mon - Fri 09:00 - 17:30 (04:00 - 12:30 local time); Sat 09:30 - 13:00 (04:30 - 08:00)

West Coast USA: Mon - Fri 09:00 -17:30 (01:00 - 09:30 local time); Sat 09:30 - 13:00 (01:30 - 05:00)
Office hours: Ottawa: Mon - Fri 09:00 - 17:30 (04:00 - 12:30 local time); Sat 09:30 - 13:00 (04:30 - 08:00)

Vancouver: Mon - Fri 09:00 - 17:30 (01:00 - 09:30 local time); Sat 09:30 - 13:00 (01:30 - 05:00)
Office hours: Canberra: Mon - Fri 09:00 - 17:30 (20:00 - 04:30 local time); Sat 09:30 - 13:00 (20:30 - 24:00)
Office hours: Mon - Fri 09:00 - 17:30 (22:00 - 06:30 local time); Sat 09:30 - 13:00 (22:30 - 02:00)
Office hours: Mon - Fri 09:00 - 17:30 (check internet for local time equivalent); Sat 09:30 - 13:00
Ribeira Sacra
Low light over the river
Gentle walking through green pastures
Autumnal woodlands
Home of some great wines
Autumn colours in the vineyards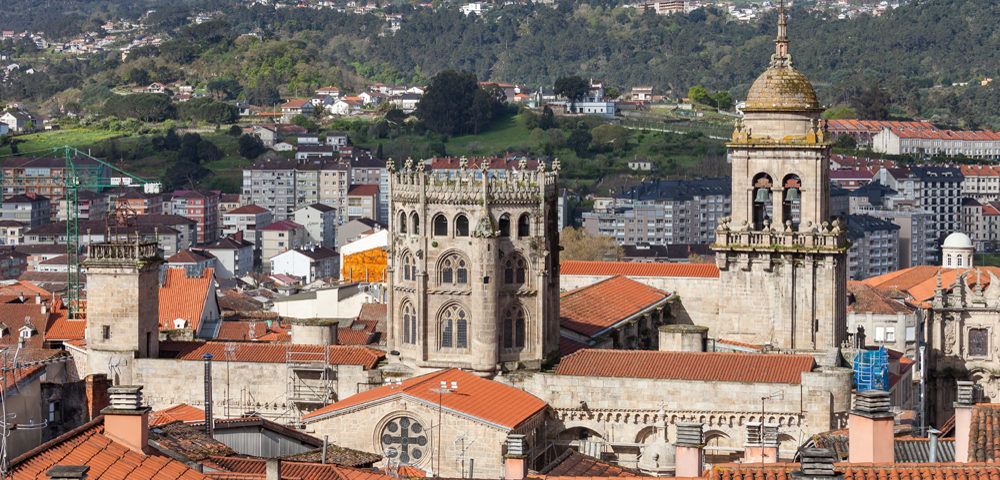 Ourense's cathedral
The stunning gorge of the river Sil
Parador de Santo Estevo
Morning mist in the valley
Stay here and sample the wines
The old town of Ourense
Overall, we had an excellent experience. The route really was "unspoiled" (your word) and "authentic" (our word). We enjoyed experiencing what appeared to be and felt like "old Europe," especially as we passed through tiny villages with subsistence farms and old, well-maintained churches. The mixture and level of accommodation was perfect, and the routes appropriately challenging. We were impressed by the care with which the varied route was assembled. Your recommendations were spot on, and we found following them wise.
Ronald and Brigitte Laurence, New Hampshire, USA - September 2023
It's a great walk with spectacular scenery. Yes, we were lucky with the weather. We hardly saw anyone else which we like, as it was definitely their quiet time of the year. The variety of accommodation was nice too. We wouldn't have wanted to stay in Paradors all the way, so nice to mix it up with the different places we had.
Ian Kitchen, Rickmansworth, UK - September 2023
I loved the feeling of stepping back in time. The history of this area is fascinating. We never saw another hiker. So many people are walking the Camino but never see the rest of this area.
Debra Favour, Arizona, US - September 2023
We hadn't been to this part of Spain and the Ribiera Sacra sounded intriguing, undiscovered and fascinating - which it was. We have been on a few walking trips with On Foot and would be reluctant to book with any other company. Turbisquedo was the highlight - just amazing in every respect and a wonderful, passionate owner. Fantastic food and the best packed lunch. Wished we could have stayed there longer - next time!?
Dilly Barlow, Lewes, UK - September 2023
We loved the walking, the variation in the scenery, the mix of terrain, the mix of hotels, all special in different ways. We met some lovely people. We enjoyed some great food and wine. Also it was quite special to be walking and rarely seeing anyone, we felt immersed in the countryside. The weather was on our side.
Hilary Bett, Salisbury, UK - September 2023
We had an amazing holiday, probably the best of the eight routes we have been on. Ribeira Sacra is definitely a very well kept secret. The walking was delightful and just right for us now that we have a combined age of nearly 157! Perhaps our favourite walks were the Balcony Walk on a hot sunny day (32C) and the Parada De Sil circuit but we also enjoyed the walks through woods and villages.The late summer flowers were at their best especially ling and bell heather and carpets of autumn croci.
Lindsay Driscoll, Bradford on Avon, UK - September 2023
Very easy team to work with. All the team members are up to date on your specific holiday and travel arrangements. We have walked in Galicia before (The Lighthouse Way) so we were interested in exploring more of the area. We think it's a fantastic area for walking. We loved the network of ancient pathways and the quiet solitude.
Sue Johnson, Skipton, UK - September 2023
We were amazed at the scenery. The gorges are very deep and impressive. We like exploring different places. We've been to other areas of Spain and thought this sounded completely different - and it was! We like exploring different places.
Graeme and Nora Collecutt, Alberta, Canada - May 2023
Well, we had the most fantastic time on this new trip and absolutely loved it. The views, the wild flowers, the birds (including a hoopoe on one of the days) were all beautiful.
All the hotels were really good and our hosts very, very welcoming. Bill showed us the tower and was very attentive throughout our stay and then we were on to Maite and the wine tasting. I don't know if I speak for all five of us but this was my favourite place to stay. Maite's renovation of the rectory is superb and she told me that, although her profession is wine making, she has travelled a lot and knows what she likes in a hotel. She's certainly done it well. The food was delicious, too. Pepe's bar in Parada de Sil was fun – full of buckets to catch the rain and a bottle of wine for 5 Euros! I could go on but won't bore you.
Anon - May 2023
At a glance
9 nights (8 walking days) - the full route. Shortenable to 8 nights if you miss out one night in Parada de Sil (choice of walking options). For extra nights consider Cristosende, Parador, Turbisquedo, Ourense. See 'Prices' tab for what's included.
Suggested route pairing: Camino Primitivo, Lighthouse Way
How much walking?
Full days: 11-17 km per day, 3¾-5 hrs walking
Using shortening options: No specific shortening options, though taxis can be arranged.
Vineyards and riverside walking to Ourense
Tucked away in the south of Galicia, Spain's most north-westerly province, is the wine country of Ribeira Sacra – "Holy riverside", a name that stems from the vineyards in the area established by monks in the Dark Ages.  The country is incised with deep valleys offering extensive south-facing slopes perfectly designed for the ripening of the grape, though with practical challenges imposed by the steepness of the terrain.  For many years this was a forgotten area, and it is only recently that the wines produced here are getting the recognition they deserve.
For the walker the attraction of the area is in the dramatic gorge scenery, and our route makes the most of the riverine landscapes, starting in the citadel of Castro de Caldelas, and finishing after an exploration of two gorges (the Sil and the Minho and their associated hinterlands) in the capital of the region, Ourense.  The old town is crammed with cobbled streets and historic buildings, and a particularly fine collection of tapas bars, each carefully checked by the writers.
All versions of the walk end with a night in Ourense.
Walked by On Foot Staff:  Debbie, Simon and Fi
Consider pairing this route with Camino Primitivo (40 mins transfer by train plus taxi), or Lighthouse Way (2½ hrs) – for more details click here.
REVIEWS: This is a new route – reviews will start to feed through to this page once the first walkers have come back (2023).  Similarly, for independent walker reviews submitted to the Association of Independent Tour Operators visit AITO.com.
TRAVEL ADVICE: To find the latest travel advice from the Foreign & Commonwealth Office for UK citizens travelling to Spain, click here. Citizens of other nations will also find it useful, but should always check their appropriate local agency.
Route Highlights
The gorges of the Sil and the Minho
The wines of the Ribeira Sacra
Staying in old farmhouses and manor houses, and in a working vineyard (with option for winery tour and tasting – supplement, payable locally)
Three ancient monasteries, one now a Parador (where you stay)
Ourense, its old town, cathedral and its bars
This route features the following characteristics and interests: Remote, Villages and farms, Food, History, Wine
We Recommend
Extra nights in Cristosende, the Parador, Turbisquedo and Ourense. Consider pairing this route with our Camino Primitivo or Lighthouse Way routes.
Eating and drinking
Galician food is robust, like its people, but there is an emphasis on fish which reflects its proximity to the sea.  Caldo Gallego (vegetable soup), empanadas and la tarta compostelana should also be tasted.  The Galician grape varieties are principally Godello (white) and Mencia (red), mainly drunk quite young, though some vineyards are starting to produce wines that age well, and other grape varieties such as Tempranillo are creeping in.
How much Walking?

Full days: 11-17 km per day, 3¾-5 hrs walking
Using shortening options: No specific shortening options, though taxis can be arranged.
Some waymarked paths but in the main the waymarking is local, so attention to the route notes is important if GPS not used.  No seriously steep or technical walking.  Highest point on route 850m, lowest 300m.
Medium:  Average cumulative uphill stretches (CUSs) 550m (375m-750m) per day.
Acrophobia/vertigo warnings: None.
GPX file available for handheld GPS or smartphone App for complete route.
Important note: Times given for each day are  walking times for an "average" walker and exclude stops. "CUSs" stands for "Cumulative Uphill Stretches" and measures the aggregated ascents in each day, expressed in metres of climb. See "Walk Grading" for more information.
When to go?
The best months to walk: May, late September, October
Other possible months: April, early June, early September, November
Northern Spain is best walked in late spring and in autumn, though early June can be lovely too.  The route is not offered in the summer months because of heat and accommodation busy-ness!
Start Dates
Recommended
Possible
Unavailable
Weather Chart
Rainfall and temperature chart for Ourense
Itinerary
Day 1 - Arrive in Castro de Caldelas
After a taxi ride from Ourense (included), check in to your hotel, then have a wander around the old town, admire the views from the citadel and check out the (modest) choice of restaurants for your first supper.
Day 2 - Castro de Caldelas to Cristosende
From the town, descend through oak woods to a stream and then climb through vineyards to a beautiful abandoned monastery. Continuing to pretty A Cruz, there is then a choice; our preferred route via Teixera is shorter, and offers your first full view of the spectacular gorge just before your next accommodation. (Medium-hard: 3½ hrs walking (allow 5 hrs), 12½ km (8 miles), CUSs 535m) or add another 4 km/1 hr.
Day 3 - Cristosende to Parada de Sil
This is the day you see the Sil river close up. A walk down to the water is followed by some attractive villages and an "Adega" (winery) on the river bank, before a beautiful riverside path to the hamlet of Rabacallos. Here you can opt to take the short steep option to your destination, or a recommended longer version up a side stream through pretty woodland, passing an old mill with a sad story, before coming out at the top onto the Parada de Sil plateau, and a short walk through fields to your next accommodation in this attractive village. (Medium-hard: 4½ hrs walking (allow 6 hrs), 14¼ km (9 miles), CUSs 740m). Alternative: With shorter, steeper end: Medium-hard: 4¼ hrs walking (allow 5¾ hrs), 12½ km (8 miles), CUSs 830m.)
Day 4 - Parada de Sil circuit
A day of three parts. The first is on broad tracks through pine and oak woods, taking in three viewpoints over the Sil, the second on narrow paths, sometimes steep but always interesting, through abandoned farmland to the monastery of S. Cristina in its remote fastness, and the third on ancient stone-wall-lined lanes which once linked the villages before the arrival of the motor car, now lovingly cleaned by local walking groups. (Medium: 3¾ hrs walking (allow 5 hrs), 11½ km (7 miles), CUSs 500m)
Day 5 - Parada de Sil to the Parador
A day of many viewpoints over the Canon do Sil. An easy start to the day on a quiet road before ascending to moorland and the first viewpoint. More follow, winding in and out of woodland, crossing streams, visiting tiny villages set in a bucolic landscape, never far from the river, before a final descent to the glorious former monastery, now one of Spain's famed Paradors. (Medium: 5 hrs walking (allow 6¾ hrs), 16¾ km (10½ miles), CUSs 500m). Lift possible to shorten walk – save up to two hours walking.)
Day 6 - The Parador to Penalba
This varied walk has many magical moments, starting with a great balcony walk from the Parador, before encountering many of the old ways between the villages, to a mini-fest of hórreos (traditional stone grain stores) at Biduedo. From here the path heads charmingly back to the gorge, where you have a choice – either to continue along the gorge at mid-level) or head back up to the plateau for an inspection of a Neolithic landscape, before redescending circuitously to the Mirador de Lampa, one of the best on the Sil. From here your path descends through commercial forest (though with some majestic views) to your next accommodation at Penalba. (Medium: 4¾ hrs walking, (allow 6¼ hrs) 15¼ km (9½ miles), CUSs 540m). Alternative: Shorter version along gorge to the Mirador de Lampa – saves 2½ km and 1 hr walking.)
Day 7 - Penalba to Turbisquedo
A shorter day, so take it a bit easy. Start off up the same track as you descended along yesterday, then a bit of quiet road walking into the village of Os Peares, where the Minho and the Sil meet. After crossing the river check out the riverside (the café could be open) before heading up the valley of the Bubal river. A short, steep climb through two abandoned villages (where your host tonight plans to re-establish a historic vineyard) is followed by a pleasant ramble through light woodland before reaching Bill and Juan-Carlos' extraordinary house at Turbisquedo. (Medium-hard: 3¾ hrs walking (allow 5 hrs), 12¾ km (8 miles), CUSs 750m)
Day 8 - Turbisquedo to Ferreiros
This bucolic day is a little longer than yesterday, but not difficult. It rolls through the open countryside south of Turbisquedo, before reaching the little town of A Peroxa, complete with café and ruined castle. From here you descend almost to the River Minho before a gentle ascent up to your next night's accommodation, formerly the church rectory and now a working vineyard. (Medium: 4 hrs walking (allow 5¼ hrs), 15 km (9½ miles), CUSs 375m)
Day 9 - Ferreiros to Ourense
Your final walking day starts off gently downhill through the villages connecting the countryside with the river, with occasional views to this broad waterway, before reaching it at the delightfully named village of Casanova. A stretch along the river and its inlets is followed by a short countryside length through pine forest before meeting the river again finally on the outskirts of Ourense. The riverside park and promenade is a good way to enter the city, and the 'Roman' bridge a lovely way to cross into the historic centre. (Medium: 4 hrs walking, (allow 5¼ hrs), 16¼ km (10 miles), CUSs 400m)
Departure day
Depart for home, or opt to stay further nights in Ourense to explore the old town.
Travel Information
ARRIVING BY TRAIN
Nearest railway station:
Start and Finish: Ourense
Train timings:
Ourense – Madrid ~3 hrs
Ourense – Santiago de la Compostela 40 mins
ARRIVING BY CAR
Parking is available in Castro de Caldelas on quiet side streets, or in Ourense (multistorey car parks).
ARRIVING BY AIR
The best "local" airport is Santiago de Compostela. Intercontinental flights would use Madrid – transfer by train – see below.
Santiago de Compostela
Land by: 16:00 for train to Ourense then taxi transfer to first hotel
Return flight earliest: 14:30 after train from Ourense then bus or taxi to airport.
Direct pre-booked taxis from/to Santiago city/airport also possible to enable flights outside these times – see 'Prices'.
Madrid
Land by: 13:00 for train to Ourense then taxi transfer to first hotel
Return flight earliest: 16:30 after train from Ourense then bus or taxi to airport.
For flights outside these times factor in an overnight stay in Madrid.
Flight information can change rapidly and not all flights run daily. Please do check directly with the airlines' websites or Skyscanner (see below) before finalising any booking with us. Do not book your flights until we have confirmed that we have provisionally reserved accommodation for you.
For up-to-date schedules and flights from all airports check Skyscanner.
See "Getting to the start of the walk" below for transfer information.
Getting to the start of the walk
OUTWARD
Start points are Castro de Caldelas (full route, 8-night or gorge 6/7 night options) or Parada de Sil (6/7 night wine/history options). As the bus service from Ourense is a little infrequent (and no buses on a Sunday), a pre-booked taxi to get you to your first night's accommodation from Ourense station is included in the holiday price. For those wishing to make their own way to the start a discount will be available.
RETURN
End point is Ourense. Fast trains to Madrid and Santiago.
Pre-booked taxis available for Santiago/Ourense. For prices see "Prices" tab.
Full transfer advice, including timetables, is provided in your Walkers' Pack. Contact us if you would like additional pre-booking information.
Where You'll Stay
In true On Foot Holidays style there is a range of accommodation types on this route.  The simplest accommodation is clean and friendly, and rooms are modest in size, though nowhere cramped. There is no scope for upgrading or downgrading hotels until Ourense, though upgrading room types is possible in Cristosende, the Parador, Turbisquedo (marginally) and Ourense.
Prices
Price: from £
1210
for 9 nights
Total 9 nights in double/twin room, all breakfasts, 6 picnics and 3 evening meals, taxi from Ourense station or town to first hotel, luggage transfers between all hotels on walking route; full Walkers Pack with route directions, maps, transfer and background information; local telephone support.
All prices are per person unless otherwise indicated, and are based on a standard booking in May. Prices may vary seasonally and a fixed price will be given to you before you commit.
Single Room Supplement (SRS): From £330
Lone Traveller Additional Supplement (LTAS): From £215
Large Party Saving (LPS): Groups of more than 2 people (on an identical itinerary, on the same booking and booked at the same time) – discount of at least £40 per person
Maximum party size: 10
Add Ons
Additional B&B night in Parada de Sil: £45 pp (single room supplement £20)
Additional B&B nights in any other accommodation: Contact On Foot – seasonal pricing
Sending Walkers Packs to addresses outside the UK: £20-£60 (per pack, location dependent)
TAXIS
Santiago/Airport to first hotel: £190/£210 (supplement)
Ourense to Santiago/Airport: £130/£150
Pricing is for 1-6 persons. Minibuses for larger groups – contact On Foot Holidays.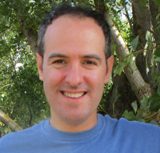 Our local team
Aznar Fernandez de Pinedo
Aznar was born and grew up in Bilbao, where he soon developed his love for nature (he is a keen naturalist), hiking and the rural environment in general. He studied Business and has worked for many years in multinational corporations in the IT sector, living in both Barcelona and Madrid. But in 2014 he decided to change his career to work on what he loves most.

Sign up to our Newsletter
Witty, compelling and full of fantastic ideas for your
next walking holiday. It's the perfect travel companion!