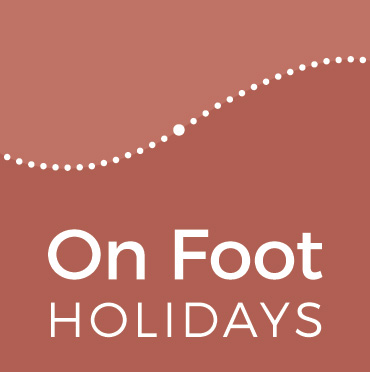 View Shortlist
Office open now
Opening Times
Office hours: Mon - Fri 09:00 - 17:30; Sat 09:30 - 13:00
Office hours: Mon - Fri 09:00 - 17:30; Sat 09:30 - 13:00
Office hours: East Coast USA: Mon - Fri 09:00 - 17:30 (04:00 - 12:30 local time); Sat 09:30 - 13:00 (04:30 - 08:00)

West Coast USA: Mon - Fri 09:00 -17:30 (01:00 - 09:30 local time); Sat 09:30 - 13:00 (01:30 - 05:00)
Office hours: Ottawa: Mon - Fri 09:00 - 17:30 (04:00 - 12:30 local time); Sat 09:30 - 13:00 (04:30 - 08:00)

Vancouver: Mon - Fri 09:00 - 17:30 (01:00 - 09:30 local time); Sat 09:30 - 13:00 (01:30 - 05:00)
Office hours: Canberra: Mon - Fri 09:00 - 17:30 (20:00 - 04:30 local time); Sat 09:30 - 13:00 (20:30 - 24:00)
Office hours: Mon - Fri 09:00 - 17:30 (22:00 - 06:30 local time); Sat 09:30 - 13:00 (22:30 - 02:00)
Office hours: Mon - Fri 09:00 - 17:30 (check internet for local time equivalent); Sat 09:30 - 13:00
Dordogne – 5 nights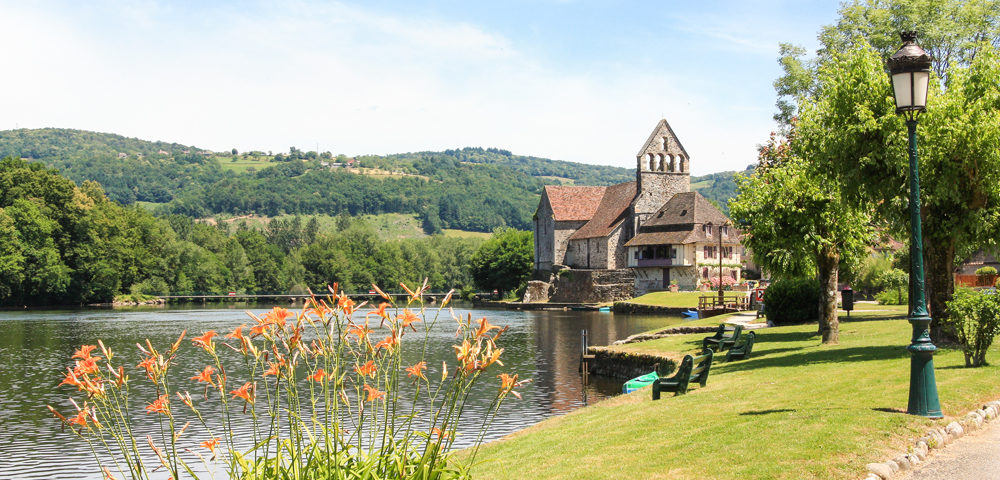 Beautiful Beaulieu on the serene Dordogne
Rocamadour, clinging to the limestone cliffs
A sleepy afternoon in Autoire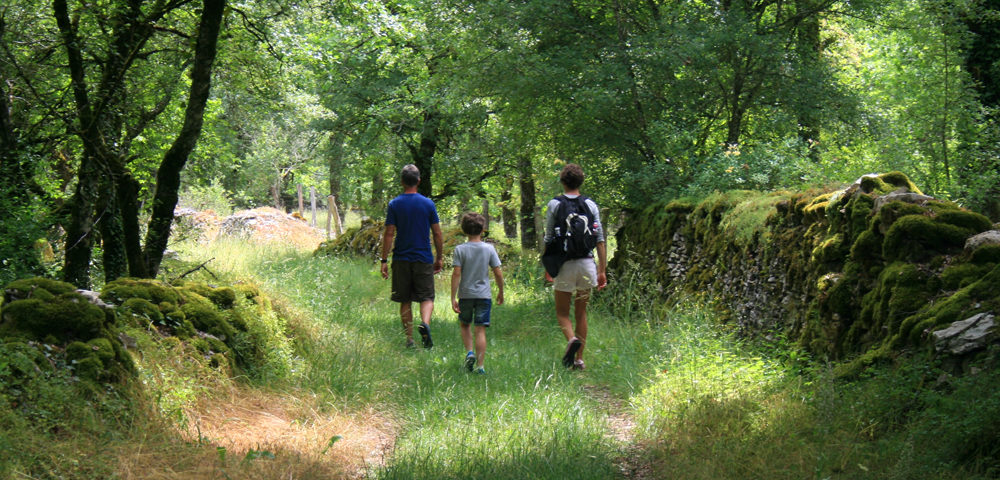 A pretty country track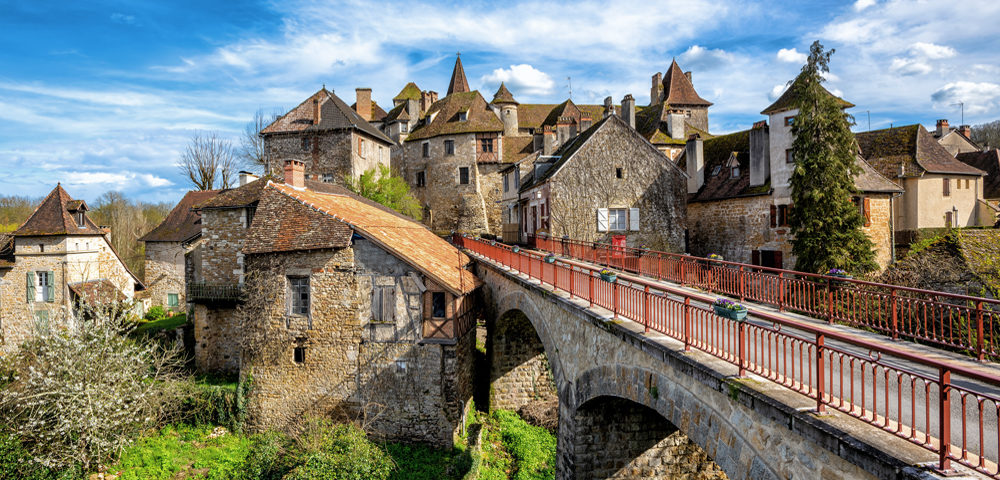 Carennac
Mist in the valley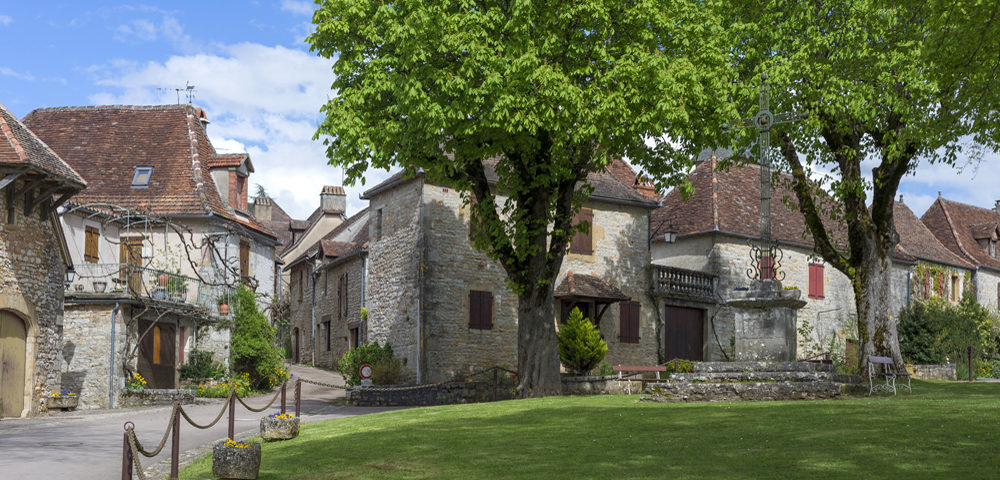 Loubressac, one of the 'plus beaux villages'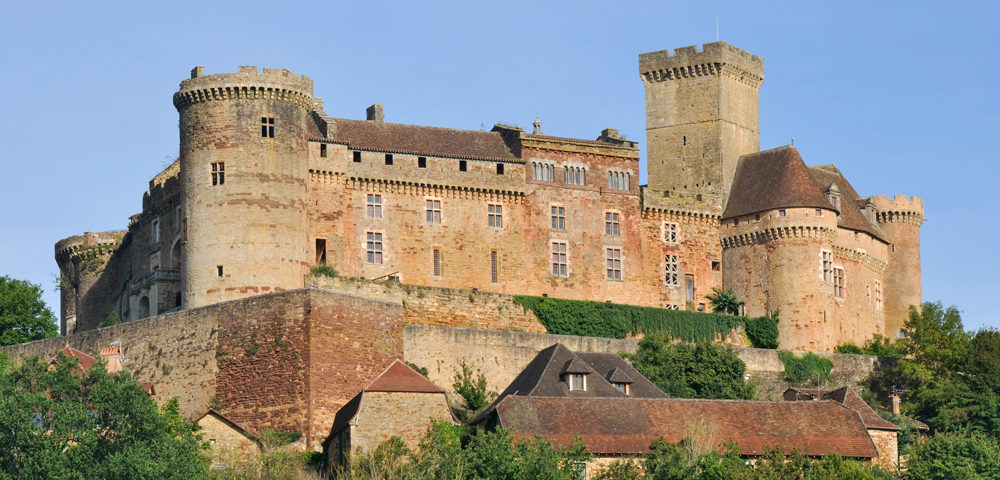 The imposing fortress of Castelnau-Bretenoux
The Dordogne at Meyronne
Cliff-top chateau at Belcastel
We enjoyed the progressive journey of the route and the variety of countryside from plateau to river valley. The notes and organisation were great. The quality of the food added another dimension. The booklet was excellent. It helped us prepare beforehand for the trip in terms of what to take and what to expect. The background information was a pleasure to read and gave us a wider view, feel and appreciation of the unique area. Thank you Emily for the personal and very readable view.. The descriptions and histories of the places on the route added tremendously to our enjoyment of the villages.
P&M Rawles, Inglewood, New Zealand - October 2023
The office service was amazing! Any help I could have needed was anticipated and addressed. The staff went way beyond my expectations in making this the best possible trip. Thank you!
Tom Kennedy, Grand Rapids, USA - September 2023
We are devotees of the format and repeat offenders with On Foot Holidays.
Anon, UK - September 2023
I LOVED the holiday. Well beyond my expectations. The walk along the Dordogne was gorgeous, and the destinations so well-chosen, surprising and fascinating. I am spoiled for hiking now, a nice walk in the woods just won't be good enough!
Melissa Berman, Fort Bragg, USA - September 2023
We really enjoyed the varied landscapes over the course of the walk and there was something special each day.
Jenny McInerney, Pasadena, Australia - September 2023
I had looked at several other walk companies for the region. The choice of villages, the lengths of the daily walks, and the possibility of shortening some of them, made On Foot my top choice. We especially loved all the beautiful villages. The different kinds of countryside were fascinating - forests, meadows, plowed fields, riverbanks.
Steve and Sue, New Haven, USA - June 2023
We loved the area - flowers, insects, astonishing amount of butterflies, cuckoos, a kingfisher, noisy frogs, the small-scale agriculture, the ancient buildings. The walking was just right for us and we took the lifts as the weather was a bit hot.
P Nettelfield, Bristol, UK - June 2023
Emily contacted me, met me briefly on my first day and even gave me some home-made biscuits. It was reassuring to me to have this contact as I was walking alone and this was my first time to do this, so much appreciated, and it was above and beyond what I expected.
I really appreciated the good communication through the booking process, the availability of a friendly local contact person, the reassurance of the GPS app, the interesting walking routes, the clear directions. I thoroughly enjoyed my walk and can't think of any improvements to suggest.
J Wenner, ACT, Australia - May 2023
There aren't a lot of Dordogne walks to compare but On Foot's website was very clear about the route and where you would stay. Then my first phone call with Debbie was completely convincing as she had actually done the walk and knew the area. Always easier to book with a company that has someone with first-hand knowledge.
Local contact Emily went above and beyond the call of duty. We loved her. She couldn't have done more and really changed the whole vibe of our holiday which up until Brive had been quite taxing (cancelled flights). She was like a good friend.
Carol Wright, Toronto, Canada - May 2023
The walking was wonderful, with carefully thought out routes and beauty at every turn. Hotels were great. We felt well cared for.
Jane von Bergen, Philadelphia, USA - May 2023
This was a perfect holiday, route and planning were excellent as was the choice of hotels which got better each day. Everything ran to plan and everyone was so helpful. It far exceeded my expectations, possibly you undersell yourselves! Pont de l'Ouysse: This was an outstanding experience. Perfect location, amazing views, fabulous team nothing was a problem and one of the best dinners I have ever had. This was top quality French dining.
Alan Simms, Biddenham, UK - April 2023
This route is our favorite to date among On Foot's many offerings. This region is truly 'unspoilt' and the lodgings are well chosen. An ideal destination for Fall in particular.
We'd expected perfectly adequate lodging throughout, but we were then quite bowled over by the excellence of the three final lodging spots, each of which featured rooms and kitchens and design elements of a very high order.
Peter Laarman, Providence, USA - September 2022
The transit of the luggage worked brilliantly and being able to rely on this made a big difference. The same goes for the walking notes which were supremely reliable.
The most rewarding aspect was the vast variety of experiences crammed into a week - scenery, hotels, and great gastronomic experiences.
Alexander MacIntyre, Aberdeen, UK - May 2022
Auberge du Vieux Port - Lovely place overlooking the river. The proprietor was charming and the dinner was superb, especially the flaming pudding.
Caroline Croft, London, UK - April 2022
We loved the whole thing, being able to get away and have a change of scene. I love the high limestone plateau with the oak, chestnut, beech and maple woods - such beautiful colours at this time of year.
Good walking on some beautiful paths through attractive countryside and pretty villages.
Nick & Diana Brewer, Norwich, UK - October 2021
What we liked most was the wonderful walking - one of the best On Foot holidays we've enjoyed in this respect - because nearly all the walking was on footpaths and very little on roads, and the countryside was quite beautiful. As an added bonus, it being autumn, the fruit was literally dropping off the trees - apples, plums and we sated ourselves on ripe figs!
The distances each day and the balance between easy, medium and slightly harder were well explained and easily managed (given that we are probably rather older than the average On Footer).
Jane Irons, Lewes, UK - September 2019
More independent feedback
At a glance
Dordogne 5-night version (missing walk to and stay at Port de Gagnac). Add extra nights in Beaulieu, Carennac, Meyronne and Rocamadour. See 'Prices' tab for what's included.
How much walking?
Full days: 14-22½km per day, 3-5½ hrs walking
Using shortening options: 8-14km per day, 1½-3¼ hrs walking
Hills and valleys, vineyards, bridges and chateaux
The River Dordogne, beloved of travellers for decades, courses its way from the Massif Central to the Atlantic at Bordeaux, and passes through some of the most beautiful countryside in France. Each section has its own character, but the stretch we have chosen reflects that variety, giving the walker a taste of the Middle Dordogne landscape in all its forms.
From the start at Beaulieu, where the wide river flows gently through the water meadows outside the old town, our route climbs into the hills above, with fine views and bucolic countryside on each of the first three walking days. You'll then head over the limestone causse to the historic and dramatic pilgrimage centre of Rocamadour for your final night.
Stay in traditional inns and small hotels, many of them riverside, including a former château. And being France, the food is exceptional, with a lot of local specialities. The wines from the area are gaining a reputation too, and are worth exploring!
The walking is graded medium, but with built-in shortening options for those who would like to walk the route at a more leisurely pace.
Walked by On Foot staff: Simon and Debbie
REVIEWS: For independent walker reviews of this route submitted to the Association of Independent Tour Operators visit AITO.com.
ARTICLES: Read an article about On Foot's Dordogne holiday on our blog here.
TRAVEL ADVICE: To find the latest travel advice from the Foreign & Commonwealth Office for UK citizens travelling to France, click here. Citizens of other nations will also find it useful, but should always check their appropriate local agency.
Route Highlights
The limpid waters of the Dordogne middle reaches
Castelnau castle
The Autoire waterfall  and clifftop walk
Medieval fortified villages
Walking across the Causse
The sanctuary of Rocamadour
This route features the following characteristics and interests: Villages and farms, Drive to route, Food, History
Things you should know
Access to the route may require a long journey, so if coming by train, make that part of your holiday plans.
We Recommend
Extra nights in Beaulieu, Carennac, Meyronne or Rocamadour for relaxation.
Eating and drinking
While the general standard of meals throughout the route is good, special mention should be made of the dinners provided by our hosts at Carennac (Petite Auberge) and Meyronne (La Terrasse) and, if your itinerary includes it, a meal at a starred Michelin restaurant in Belcastel.
How much Walking?

Full days: 14-22½km per day, 3-5½ hrs walking
Using shortening options: 8-14km per day, 1½-3¼ hrs walking
The paths are mainly waymarked, are well looked after, though careful attention still needed to your route directions.
Medium: Average cumulative uphill stretches (CUSs) 585m (425m-745m) per day.
Easy-Medium: CUSs 350m (150m-425 m) per day using taxi shortening options (pay locally) most days.
Acrophobia/vertigo warnings: Only momentarily en route to Loubressac (up metal stairs with handrails to reach the final stretch into the village).
GPX file available for handheld GPS or smartphone App for complete route.
Important note: Times given for each day are  walking times for an "average" walker and exclude stops. "CUSs" stands for "Cumulative Uphill Stretches" and measures the aggregated ascents in each day, expressed in metres of climb. See "Walk Grading" for more information.
When to go?
The best months to walk: April, May, June, September, October
Other possible months: early July, August (very end)
Enjoy the Dordogne in April, May and June for the spring flowers and in September and October for the golden autumn warmth. Route not available between mid-July and late August.  Please note that stays in Port de Gagnac are not possible on a Sunday night.
Start Dates
Recommended
Possible
Unavailable
Weather Chart
Temperature and rainfall in Rocamadour
Itinerary
Day 1 - Arrival day
Arrive and settle into your accommodation.  Wander around the town to check out a restaurant for the evening, and perhaps enjoy an aperitif ...
Option
If you have more than one night in Beaulieu, either by choice or because our accommodation in Port de Gagnac is unavailable, we can offer a lovely circular walk above Beaulieu - the Sioniac Circuit. It's about 12km, not difficult walking, and is a good introduction to the landscape of the area as it winds through woodland and fields.
Day 2 - Port de Gagnac to Loubressac
A delightful day visiting the village of Glanes, walking through the vineyards of the Coteaux de Glanes and up to the majestic castle of Castelnau (we recommend delaying your start if you want to catch the opening times – see below), before winding up the Autoire valley to its eponymous historic village, and a dramatic waterfall. The end of the walk includes a dramatic clifftop section and a quiet lane to your next accommodation in a bustling inn. (Medium: 5½hrs walking (allow 7½ hrs), 24 km (15 miles), CUSs 755m)
Alternative:  Ride with the luggage to Castelnau (saving 2¾ hrs) – €15 supplement payable direct to driver.
Day 3 - Loubressac to Carennac
A shorter walk through pretty countryside with views out over the Dordogne valley, to the lovely village of Gintrac before a final descent to Romanesque Carennac, beside the Dordogne. (Medium-hard: 3½ hrs walking (allow 4¾hrs), 11¼ km (7 miles), CUSs 485m)
Alternatives: only to ride with the luggage all the way to Carennac.
Day 4 - Carennac to Meyronne
A long (if done in full), beautifully varied day starting and ending with two very different aspects of the Dordogne, and leading through woods and wide-open countryside, over the limestone plateau and into small villages.  There's a lot of ground to cover, but there's also a lot of opportunity for striding out over easy paths and tracks. (Medium-hard: 5½ hrs walking (allow 7¼ hrs), 22½ km (14 miles), CUSs 735m)
Alternatives: Lift with the luggage to Floirac (saving 2¼ hrs) or even Montvalent (saving 4 hrs). Supplement of €15 payable to the driver.
Day 5 - Meyronne to Rocamadour
An easier day largely through remote farmland on the Causse, belying the busyness of your destination – the tourist hub that is Rocamadour. The village's dramatic setting grew up around a shrine to a black Madonna, and is now one of France's "Grand Sites", visited by pilgrims and travellers alike. (Easy-medium: 3¼ hrs walking (allow 4¼ hrs), 13¾ km (8½ miles), CUSs 425m)
Alternatives: none except to travel with the luggage all the way.
Departure from Rocamadour
Leave for home – or have another night to explore the village.
Travel Information
ARRIVING BY TRAIN
Nearest railway station:
Start: Bretenoux-Biars (nearest, but limited number of trains, so the holiday cost includes a taxi from Brive, or, if coming from Toulouse, from Souillac)
Finish: Souillac – holiday cost includes taxi from Rocamadour (or Meyronne) to Souillac station
Sample journey by rail:
Via Paris: Gare d'Austerlitz to Brive ~4½ hrs
Souillac to Paris: direct to Paris ~5 hrs
We suggest thetrainline.com for times, ticket booking and other information.
ARRIVING BY CAR
Leave your car at the start of the route in a public car park in Beaulieu (no charge).  Taxi back at end.
ARRIVING BY AIR
Four airports serve the route – Brive is the nearest, but quite seasonal; Bordeaux is possible too; Toulouse is the furthest, but may have the best choice of flights; Bergerac, a little further, is very seasonal, and will need a taxi transfer all the way (it's not a cheap option). Alternatively, fly into one of the Paris airports and take the train as far as Brive la Gaillarde, where our (included) taxi will pick you up. Intercontinental journeys use Paris.
Land by: Bordeaux 13:00; Toulouse 15:00; Bergerac no limit – taxi needed all the way; Brive no limit – supplement for taxi extension from airport.
Return flight earliest (for public transport options): Bordeaux 14:00 (but earlier with taxi to Brive rather than Souillac – supplement); Toulouse 12:00 (with very early start); Bergerac no limit – taxi needed all the way; Brive no limit – supplement for taxi extension to airport.
No limit if opting to take a taxi all the way.
Flight information can change rapidly and not all flights run daily. Please do check directly with the airlines' websites or Skyscanner (see below) before finalising any booking with us. Do not book your flights until we have confirmed that we have provisionally reserved accommodation for you.
For up-to-date schedules and flights from all airports check Skyscanner.
See "Getting to the start of the walk" below for transfer information.
Getting to the start of the walk
The first hotel is in Beaulieu, and the last in Belcastel, or Rocamadour or Meyronne for shorter versions.  Transfer times and methods are suggested train arrivals and for the three nearest airports below.
Train station transfers:
Outward: Pre-booked taxi from agreed arrival point (supplement for stations other than Brive).
Return: Taxi to Souillac station (included).  Supplement for stations other than Souillac.
BRIVE AIRPORT
Outward: Pre-booked taxi from airport to Beaulieu (included).
Return: Pre booked taxi (included) to Souillac (15 mins), train to Brive (30 mins), taxi off train station rank to airport – allow 1-1½ hours.
BORDEAUX MERIGNAC AIRPORT
Outward: shuttle bus to main station, train to Brive, pre-booked taxi from there to Beaulieu.
Return: pre-booked taxi Rocamadour to Souillac station (included); train to Bordeaux; shuttle bus to airport – allow 3 hours.
TOULOUSE BLAGNAC AIRPORT
Outward: shuttle bus to main station, train to Brive, pre-booked taxi from there to Beaulieu.
Return: pre-booked taxi Rocamadour to Souillac station (included); train to Toulouse; shuttle bus to airport – allow 4+ hours unless arranging for the pre-booked taxi to take you to Brive.
BERGERAC AIRPORT
Needs taxi all the way in both directions.
Full transfer advice, including timetables, is provided in your Walkers' Pack.  Contact us if you would like additional pre-booking information. For pre-bookable taxi prices see "Prices".
Where You'll Stay
The Dordogne is a popular holiday destination, and as such, there is a good variety of hotels and B&Bs – some very simple, such as thay at Port de Gagnac, others more sophisticated, such as those in Meyronne and Belcastel. Do consider an upgrade in Beaulieu or an upgrade room in Rocamadour, or perhaps upgrade to a tower room or suite in Meyronne.
All accommodations have ensuite bathrooms and WiFi.  Only Le Turenne (upgrade) in Beaulieu, La Terrasse in Meyronne, and the Beau Site (upgrade) in Rocamadour have aircon.
Beaulieu-sur-Dordogne – Hôtel Les Flots Bleus (B&B)
Small riverside hotel with comfortable rooms and terraced restaurant.
Website
Rocamadour – Hôtel Beau Site (B&B)
19th century house tucked below the cliff, with a panoramic view.
Website
Prices
Price: from £
1050
for 5 nights
Total 5 nights in double/twin room, all breakfasts, 3 picnics and 2 evening meals, luggage transfers between all hotels on walking route; taxi from Brive railway station at start to Beaulieu, and from Rocamadour to Souillac railway station at end; full Walkers Pack with route directions, maps, transfer and background information; local telephone support.
All prices are per person unless otherwise indicated, and are based on a standard booking in May. Prices may vary seasonally and a fixed price will be given to you before you commit.
Single Room Supplement (SRS): From £245
Lone Traveller Additional Supplement (LTAS): From £290
Large Party Saving (LPS): Groups of more than 2 people (on an identical itinerary, on the same booking and booked at the same time) – discount of at least £65 per person
Maximum party size: 10
Add Ons
Extra nights possible throughout the route: Contact On Foot for ideas and prices
Pre-booked taxis: a taxi from Brive railway station to Beaulieu sur Dordogne and from your final hotel back to Souillac railway station is included in your holiday price – if you would like to come from or go back to another town, ask us for a quote.
Arrange locally: Local taxi as required
Sending Walkers Packs to addresses outside the UK:  £20-£60 (per pack, location dependent)
Our local team
Emily Stokely
This particular part of France has been part of Emily's life since she was a little girl holidaying here with her parents. It was one of the first places she visited after meeting Jeremy and as keen outdoors enthusiasts, they spent many subsequent holidays discovering the area on foot and by bicycle. In 2005 they decided to move here with their young family in order to build a house, and now live in the hills above Beaulieu-sur-Dordogne where they run a small business managing holiday houses.

Sign up to our Newsletter
Witty, compelling and full of fantastic ideas for your
next walking holiday. It's the perfect travel companion!