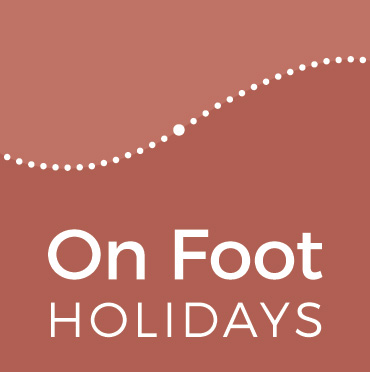 View Shortlist
Office now closed
Opening Times
Office hours: Mon - Fri 09:00 - 17:30; Sat 09:30 - 13:00
Office hours: Mon - Fri 09:00 - 17:30; Sat 09:30 - 13:00
Office hours: East Coast USA: Mon - Fri 09:00 - 17:30 (04:00 - 12:30 local time); Sat 09:30 - 13:00 (04:30 - 08:00)

West Coast USA: Mon - Fri 09:00 -17:30 (01:00 - 09:30 local time); Sat 09:30 - 13:00 (01:30 - 05:00)
Office hours: Ottawa: Mon - Fri 09:00 - 17:30 (04:00 - 12:30 local time); Sat 09:30 - 13:00 (04:30 - 08:00)

Vancouver: Mon - Fri 09:00 - 17:30 (01:00 - 09:30 local time); Sat 09:30 - 13:00 (01:30 - 05:00)
Office hours: Canberra: Mon - Fri 09:00 - 17:30 (20:00 - 04:30 local time); Sat 09:30 - 13:00 (20:30 - 24:00)
Office hours: Mon - Fri 09:00 - 17:30 (22:00 - 06:30 local time); Sat 09:30 - 13:00 (22:30 - 02:00)
Office hours: Mon - Fri 09:00 - 17:30 (check internet for local time equivalent); Sat 09:30 - 13:00
England: Coastal Exmoor – 4 nights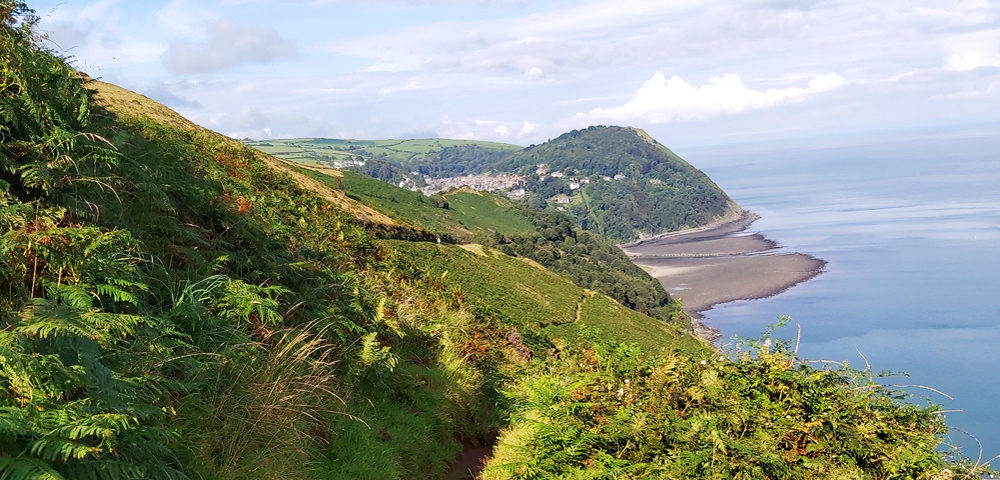 Looking back to Lynton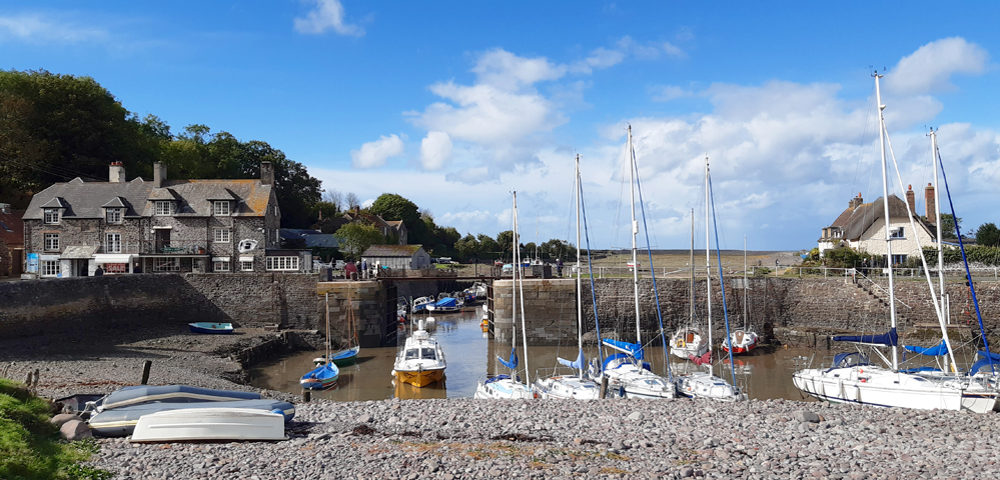 Porlock Weir (photo: S Milne)
Exmoor ponies
Lush greens of the East Lyn valley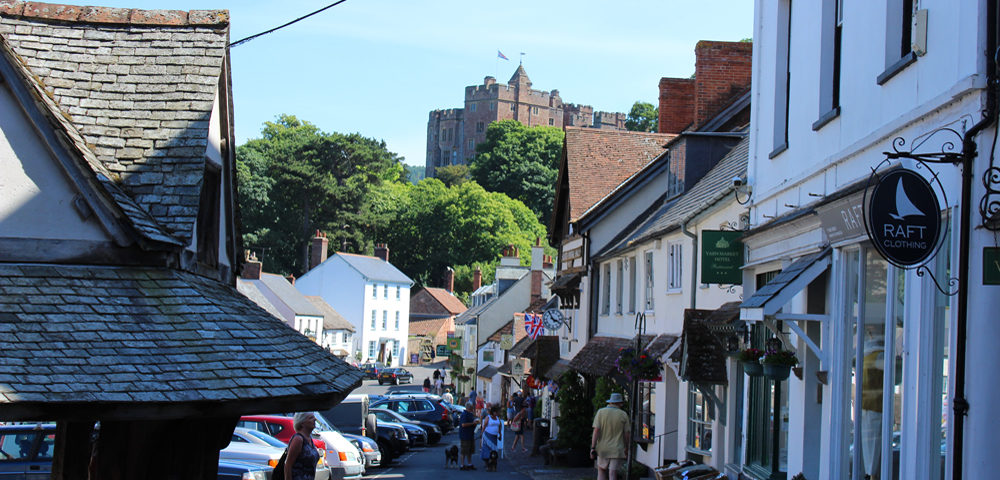 Dunster with its medieval castle
Spring lambs (photo: P Simnett)
Dunster Castle
Porlock Bay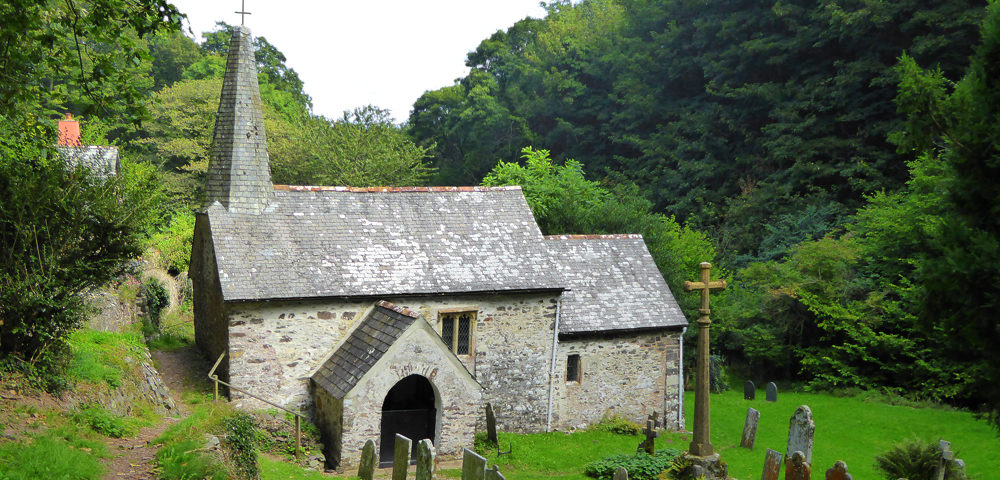 Tiny Culbone Church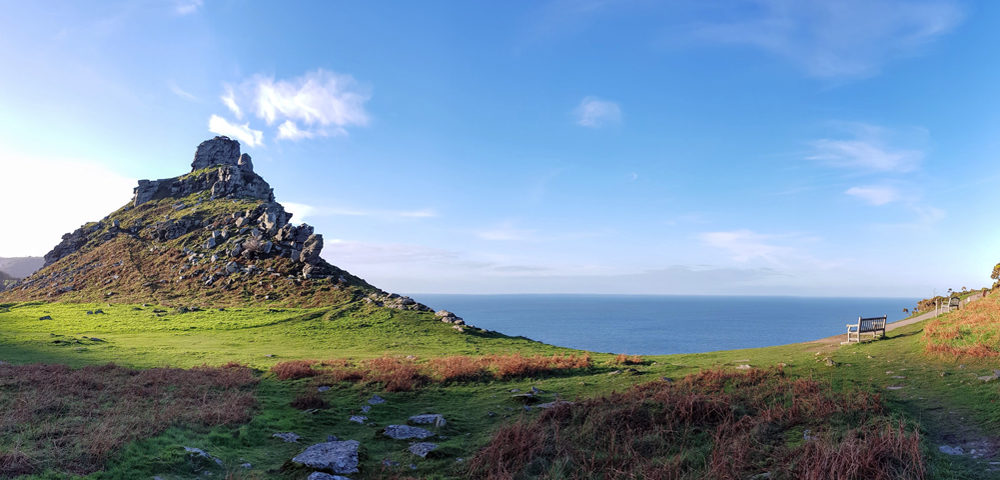 Castle Rock guards the Valley of Rocks
Gallox Bridge leads to journey's end
Variation in walking from coastal, riverside, woodland and moorland. Good pubs and food. Interesting wildlife especially birds and red deer. An excellent route.
Neil Fergusson, Chester, UK - May 2022
Exceptionally lovely walking - nearly all on footpaths, some very old, and a delightful mix of coast and inland. And the places we stayed were all delightful - welcoming, individual and mainly very comfortable. We had some good meals too.
Jane Irons, Lewes, UK - September 2021
On long walks it is easy to have a favourite day but with the Coastal Exmoor walk, every day was a favourite. There was so much variety ranging from moorland to rugged coast, with the walk ending in the lovely historic town of Dunster.
We also enjoyed seeing much wildlife including a dipper, adder and goats, but missed out on the Exmoor beast! The heather and bracken also helped add colour to the walk. This would be a lovely walk to do well into the autumn.
Neil and Ros Somerville, Reading, UK - September 2021
We enjoyed walking the route, spectacular scenery, a good camaraderie with other walkers.
Martyn Branford, Saxmundham, UK - September 2021
Enjoyed it all, especially the Coleridge Way, which took us through beautiful and peaceful countryside away from the Coast Path walkers.
Brian and Philippa Legg, UK - May 2021
Beautiful walking country with superb views and excellent mix of open coastal walking and woodland/riverside walking with a little moorland walking too.
Valerie Findlay, UK - May 2021
More independent feedback
At a glance
4 nights (3 days walking) - starting in Lynton/Lynmouth. We recommend extra nights here and/or Dunster. See 'Prices' tab for what's included.
Consider pairing with: Dorset, Devon, Cornwall, Welsh Borders

Dog-friendly with alternative accommodations.
How much walking?
Full days: 17-22km per day, 4-6 hrs walking
Using shortening options: 8-14km per day, 3-4 hrs
A literary landscape
In contrast to the more crowded sections of the South West Coast Path, the part along the North Devon and Somerset coasts is not only quieter but of quite a different character, and we at On Foot Holidays have taken the opportunity of adding some lovely inland stretches not normally included. The result is a magical combination of coastal walking, Exmoor itself, cosy villages and some striking literary connections.
This is Lorna Doone country – the heroine of R D Blackmore's Exmoor-set melodrama – so prepare the hankies. You can visit the church she married in, as well as other places connected with her tale, and much of the second half of the walk uses the Coleridge Way (named for the English Romantic poet who made his second home in this area).
The 4-night version starts at the twin towns of Lynton and Lynmouth, linked by a venerable cliff railway, and your first day is a stretching circuit taking in Foreland Point, Countisbury Church and the beauty spot of Watersmeet on the East Lyn river (shortenable!).  Then Lorna's day to Porlock Weir, surely one of the prettiest ports in the region – maybe an oyster supper? – and finally a long walk over the north slopes of Dunkery Beacon to historic Dunster, with its unmissable castle, High Street and a range of eateries.  Your holiday should end (we recommend) with a trip on the privately run West Somerset Railway to (almost) Taunton, and home.
Walked by On Foot staff: Simon, Andy and Debbie
Consider pairing this route – Dorset-Exmoor (2½ hrs by train), Exmoor-Devon (1½ hrs bus-train), Exmoor-Cornwall (5 hrs bus-train), Exmoor-Welsh Borders (6 hrs bus-train-taxi(included))
REVIEWS: For independent walker reviews submitted to the Association of Independent Tour Operators visit Aito.com.
COVID-19 SAFETY PRECAUTIONS: Please read our summary of current regulations.
Route Highlights
Variety of coastal walking and wide views
Traditional villages and a taste of the moors
Literary connections – Lorna Doone and Coleridge
Lynmouth and the story of the Flood
Picturesque Porlock Weir
Historic Dunster – a great end to your walk
This route features the following characteristics and interests: Coast, Villages and farms, Dog friendly, History
We Recommend
Extra nights in Lynmouth/Lynton.
An extra night in Dunster to give time for exploring the Castle there and the many tea rooms... undoing all the good of the previous days' walking!
Consider pairing this route - Dorset-Exmoor (2½ hrs by train), Exmoor-Devon (1½ hrs bus-train), Exmoor-Cornwall (5 hrs bus-train), Cornwall-Exmoor (4½ hrs by train)
How much Walking?

Full days: 17-22km per day, 4-6 hrs walking
Using shortening options: 8-14km per day, 3-4 hrs
Generally the signage is very good (following the South West Coast Path acorn and Coleridge Way plume). The highest point on the coast is Great Hangman (between Combe Martin and Heddon's Mouth) at 318m; high point on the route as a whole is between Lynmouth and Porlock Weir at 400m. Some parts of the coast path between Combe Martin and Lynton may worry the acrophobic. Paths and tracks, some quiet asphalt.
Medium-hard: average cumulative uphill stretches (CUSs) 625m (450m-850m) per day.
GPX file available for handheld GPS or smartphone App for complete route.
Important note: Times given for each day are walking times for an "average" walker and exclude stops. "CUSs" stands for "Cumulative Uphill Stretches" and measures the aggregated ascents in each day, expressed in metres of climb. See "Walk Grading" for more information.
When to go?
The best months to walk: April, May, June, September, October.
Other possible months: July, August (but this is peak UK holiday time, so availability can be difficult!); November, February, March (shorter options)
This walk is best in spring and autumn, but beware of shorter days from late October through to mid-April, when it may also be rather wet and muddy!
Start Dates
Recommended
Possible
Unavailable
Weather Chart
Weather and rainfall chart for Lynton
Itinerary
Day 1 - Arrive in Lynton/Lynmouth
Arrive early enough to look around these towns - explore Lynton's shops and museum, spend time watching the activity in Lynmouth harbour, and perhaps make time to explore the museum dedicated to the Great Flood of 1952.
Day 2 - Countisbury Circuit
You might decide to take a day off, but you would miss a splendid and varied day, taking in some fine coastal walking to Countisbury, a look at Countisbury church with its carved screen, then a descent to the wooded valley of the mighty East Lyn river. For the final stretch our recommended route takes you high above the valley for some great views and a beautiful wooded descent into Lynmouth. (13km, 3 hrs, CUSs 650m – shortenable)
Optional extension: For even more of the stupendous coastal views, we recommend adding a diversion to the lighthouse at Foreland Point. (Add 4km, 1¼ hrs, CUSs 200m)
Day 3 - Lynmouth to Porlock Weir
A long but rewarding day, initially following the Coleridge Way and later rejoining the South West Coastal Path as you head down into Porlock Weir. After a gradual climb beside the East Lyn river, head into Lorna Doone country with a steep climb up from Oare. The afternoon encompasses coastal scenery with spectacular views across the Bristol Channel and to Wales before some woodland walking past Culbone Church, England's smallest complete church to your destination at Porlock Weir with a magnificent vista of Porlock Bay and beyond to Hurlstone Point.  (Full route 22km, 6 hrs, CUSs 750m, shortenable with a taxi at start – supplement)
Day 4 - Porlock Weir to Dunster
Pleasant woodland walking at first with glimpses of wonderful panoramic views, then a climb up to Webber's Post with vistas of glorious rolling high hills and the distant view of Dunkery Beacon, Somerset and Exmoor's highest point. The traverse across the northern slope of Dunkery Hill and gentle descent into Wootton Courtenay provides, with good weather, spectacular and distant views across the West Somerset landscape, and continues on to picturesque Dunster, entering the village over historic Gallox Bridge. (19km, 6hrs, CUSs 450m)
Depart for home
The best way to start your journey home is via the steam railway to Bishop's Lydeard (when operational) and onward bus to nearby Taunton station, or a bus all the way.  Or why not stay a further night or two to visit Dunster Castle and to relax?
Travel Information
ARRIVING BY TRAIN
Train to Barnstaple (changing at Exeter St Davids), then bus or taxi to Lynmouth.
Nearest railway station:
Start: Barnstaple
Finish: Taunton
Sample journey by rail:
Via London: Paddington to Exeter St David's, then train to Barnstaple (c. 3½ hrs)
Dunster to London: bus Dunster to Taunton, then train (c. 3 hrs)
We suggest thetrainline.com for times, ticket booking and other information.
ARRIVING BY CAR
Driving isn't the easiest option, but you can leave your car at the railway station in Taunton (supplement payable locally – buy ticket online on the day (only) here) and take a train on to Barnstaple (or taxi/bus to Lynmouth).  Do note that space at Taunton station isn't guaranteed (there are 140 places), and other options are available either in the town or via private arrangements on the JustPark app.
Long term parking may also be available in Dunster at Dunster Steep car park, again subject to space being available (not prebookable).  You will then need a taxi back to Lynmouth (supplement).
ARRIVING BY AIR
Best "local" airports are Exeter or Bristol, but connections to Taunton are good from the London airports.
Flight information can change rapidly and not all flights run daily. Please do check directly with the airlines' websites or Skyscanner (see below) before finalising any booking with us. Do not book your flights until we have confirmed that we have provisionally reserved accommodation for you.
For up-to-date schedules and flights from all airports check Skyscanner.
See "Getting to the start of the walk" below for more detailed transfer information.
ROUTE PAIRING (for the energetic and time rich)
Dorset-Exmoor (2½ hrs by train from Axminster to Barnstaple, change Exeter St Davids)
Exmoor-Devon (1 hr bus to Taunton then 30 mins train to Exeter St Davids)
Exmoor-Cornwall (1 hr bus to Taunton then 4 hrs train to St Ives, change St Erth)
Cornwall-Exmoor (4½ hrs by train from St Ives to Barnstaple, change St Erth and Exeter St Davids)
Getting to the start of the walk
The first hotel is in Lynton, the last in Dunster.  Transfer times and methods are suggestions from London Gatwick and London Heathrow airports, but if you arrive at Bristol or Exeter airports, then transfer times will be shorter in most cases.
GATWICK AIRPORT
Outward: train to Barnstaple, changing at Reading and Exeter St David's (c. 5 hrs); bus from Barnstaple (every 3 hours, taking just under an hour) to Lynton.
Return: Hourly buses (c. 1 hr) from Dunster to Taunton or pre-bookable taxi; then train to Gatwick, changing Reading (c. 3½ hrs).
HEATHROW AIRPORT
Outward: train/tube to London Paddington, train to Barnstaple changing at Exeter St David's (c. 4 hrs); bus from Barnstaple (every 3 hours, taking just under an hour) to Lynton.
Return: Hourly buses (c. 1 hr) from Dunster to Taunton or pre-bookable taxi; then train to London Paddington and train/tube to Heathrow (c 2½ hrs).
Full transfer advice, including timetables, is provided in your Walkers' Pack. Contact us if you would like additional pre-booking information.
Where You'll Stay
A splendid range of accommodation from boutique town hotel through country house hotel to village pub, all welcoming walkers (and most dogs too!).
Night 1 & 2 (Upgrade)
Popular pub, well sited opposite harbour.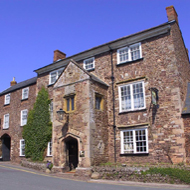 Lynton – St Vincent Guest House (B&B)
Built in 1834 by master mariner Thomas Geen (captain on the Bristol-built ship St Vincent) allegedly for his mistress (more research underway!), this Georgian house is full of history, character and charm.
Website
Lynton – Crown Hotel (B&B)
A former coaching inn with good rooms, set in an ideal place to explore the village.
Website
Lynmouth – Rising Sun (B&B)
Old inn, with fine reputation for both its rooms (under refurbishment) and its restaurant.
Website
Porlock Weir – Bottom Ship Inn (B&B)
Comfortable and popular pub with traditional food and ales.
Website
Dunster – Luttrell Arms Hotel (B&B)
Historic 15th century hotel within sight of Dunster Castle.
Website
Dunster – Yarn Market Hotel (B&B)
The Yarn Market makes a point of welcoming walkers. Comfortable rooms and friendly restaurant.
Website
Dunster – Dunster Castle Hotel (B&B)
Well-appointed rooms, mostly overlooking Dunster's cobbled high street.
Website
In Lynmouth we have another alternative: upgrade to the welcoming and family-run Bath Hotel with its eclectic rooms, most with sea view.
Prices
Price: from £
565
for 4 nights
Total 4 nights in double/twin room, all breakfasts, 2 packed lunches, luggage transfers between all hotels on walking route; full Walkers Pack with route directions, maps, transfer and background information; local telephone support.
All prices are per person unless otherwise indicated, and are based on a standard booking in May. Prices may vary seasonally and a fixed price will be given to you before you commit.
Single Room Supplement (SRS): From £165
Lone Traveller Additional Supplement (LTAS): From £95
Maximum party size: 10
Please note that weekend stays (Fri and Sat nights) in Lynton or Lynmouth may be subject to a minimum 2 night stay and a supplement.
Add Ons
Extra nights and upgrades: Contact On Foot Holidays (seasonal pricing)
Sending Walkers Packs to addresses outside the UK: £10-£40 (per pack, location dependent)
Our local team
On Foot Holidays team
This route has been designed by the staff team at On Foot Holidays in Salisbury.

Sign up to our Newsletter
Witty, compelling and full of fantastic ideas for your
next walking holiday. It's the perfect travel companion!